India is a place where there's a significant demand for bikes. People use them for daily travel and serious cycling sports. Many Indians love this activity. Surveys show that most riders plan to spend about 10,000 rupees on a bike.
To help these riders, we've compiled a comprehensive guide on the top bikes priced under 10,000 rupees in India. This includes the best bikes with and without gears from leading bike brands.
We've also discussed vital points to consider when buying a bike costing around 10,000 rupees. This way, you can avoid choosing the wrong bike.
Bikes You Can Get In India for Less Than 10,000 Rupees
Some people think you will have few choices if you're looking to buy a bike for less than 10000 rupees. But that's not correct. You can find all sorts of bikes in India in this price range. This includes simple pull bikes, bikes without gears, bikes with gears, mountains, hybrid, rangers, and more.
If you're planning to spend about 10000 rupees on a bike, keep in mind the following features when shopping for one in India:
Single-Speed Bicycles Vs Multi-Gear Bikes
Several one-speed and top-notch geared bikes are available in India for less than 10000 rupees. We talk about these options more in this piece. You must figure out what bike suits you best – with or without gears. Once you've decided that, consider the features we discuss next before you buy your bike.
Material for Frame:
Bicycles generally have two kinds of frames – those made of steel and those made of alloy. But in India, you'll usually find only steel frames for bikes that cost less than 10000 rupees. Steel frames are solid and straightforward to look after, while alloy frames tend to be lighter. The bicycle frame size can vary based on the age of the person who will ride it. So, make sure to pick a frame size that fits your height.
Choices for Gears:
The gear set you choose should match your skill level. For a single-speed bicycle, the best gear ratio is usually 44/16. If you're looking at geared bikes under 10000 rupees, you can expect options with 7 or 21 gears. Choosing bicycles equipped with Shimano or Microshift derailleurs and shifters is a good idea.
Types of Brakes:
Bicycles typically come with either rim brakes or disc brakes. For bikes around 10000 rupees, you'll likely find mechanical dual disc brakes. These brakes are more reliable and offer faster, more efficient stopping power than rim brakes.
Size of Wheels and Rims:
Adult bicycle wheels typically come in sizes 26, 27.5, 28, and 29 inches. You should choose the wheel size that fits your height. The width of the wheels can vary depending on the type of bicycle. For a mountain bike, go for wider tyres (over 2 inches).
If you're buying a hybrid bike for less than 10000 rupees in India, regular tyres (less than 2 inches) would be suitable. Regarding the rims, it's best to opt for double-walled alloy ones. They're durable, light, and resistant to rust.
Kind of Fork:
Bicycles usually feature one of two kinds of forks – rigid or suspension. A brutal knife is a good choice if you buy a single-speed bike for riding on flat roads. It will save money, lighten the bike, and help increase your speed.
On the other hand, a suspension fork is crucial for a mountain bike used on trails. For cycles under 10000 rupees in India, you can expect to find a front suspension fork without a lockout feature. If you plan to ride both on and off-road, a bike with front suspension would be ideal.
These are the five essential features to consider when buying a bike for less than 10000 rupees in India. Considering these points, we've picked out the top 5 bikes under 10000 from well-known brands.
Top 10 Best Cycles Under 10000 In India
India's bicycle market offers a variety of cycles for less than 10000 rupees, but only a select few are favourites among riders. We have prepared an in-depth analysis, including the advantages and disadvantages, of the top 5 bicycles you can buy in India for 10000 rupees:
1. Leader's Gladiator 26T
This is a great budget-friendly mountain bike with 21 different gear settings. The Leader Gladiator model is one of the best mountain bikes for under 10000 rupees. It's perfect for those aged 12 and above.
The bike features a front suspension fork for smooth rides on rough terrains and a robust braking system. It has disc brakes in the front and v-brakes at the back, designed to handle bumpy mountain paths.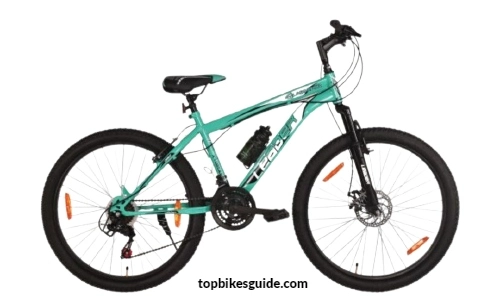 As for the wheels and frame, it comes with wide 26×2.135 inch tyres (ideal for mountain bikes) fitted on double-walled alloy rims. The steel frame measures 18 inches.
Furthermore, the Leader Gladiator has three gears at the front and seven at the back. These high-quality gears are from SHIMANO TOURNEY and come with thumb shifters.
Regarding extras, the brand provides reflectors, a water bottle, and a side stand. You'll have to buy other accessories like mudguards, a bell, and a bottle holder separately.
The bike arrives partially assembled, but it's straightforward to make yourself. To help you out, it comes with an instruction manual, Allen keys, and a spanner.
Advantages:
Budget-friendly bicycle with gears and a front disc brake.
Lifetime guarantee on the frame.
Strongly built structure using TIG welding.
Elevated handlebar for a relaxed riding posture.
Cosy seat with PU padding.
Disadvantages:
Lacks mudguards.
Not ideal for tall people (5'8" or taller).
Doesn't have a disc brake at the rear.
2. Decathlon's Rockrider ST30
If you're in the market for a top-quality geared bike under 10000 in India, the Rockrider ST30 from Decathlon could be your best bet. This bike has seven gears, micro-shift derailleurs, and a grip shifter.
The steel frame is available in four sizes: small, medium, large, and extra-large. So, you can pick the right one based on your height. It also features a rigid fork for better speed control.
The bike has wide 26×2.125 inch mountain bike tyres that can handle any road. They're fitted on single-walled aluminium rims, giving you a smooth ride.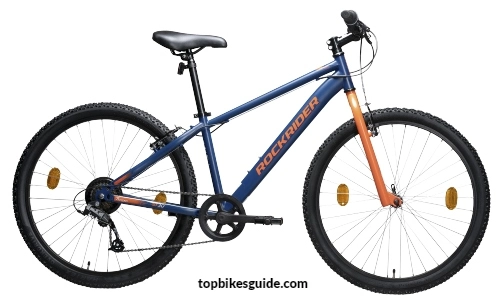 When it comes to brakes, it has v-brakes at both the front and the back. These are only second to disc brakes in power and are ideal for mountain bikes. The brake levers are sturdy and match the colour of the handlebar.
The Rockrider ST30 is a lightweight bike that's perfect for trail rides. The bike arrives 95% assembled and has the tools to complete the rest (handlebar, pedals, and front wheel).
In conclusion, the Decathlon Rockrider ST30 is the top geared bike for under 10000 in India. You won't have to worry about its quality!
Advantages:
Guaranteed for life on the frame and fork.
Seat height can be easily changed with a quick-release clamp.
Comes in various colours.
The front wheel has a quick-release axle for simple removal and attachment.
Additional padding on the seat for extra cosiness.
Disadvantages:
No accessories included.
It only offers a 26-inch wheel size.
3. Urban Terrain's UT1000
Urban Terrain is a famous brand among cyclists in India, known for its top-notch bikes. One of their standout models is the UT1000, a mountain bike with 21 gears and a sturdy 16-inch steel frame, all for under 10k.
This makes it one of the most cost-effective and high-performing bikes out there. It's suitable for anyone over 12 years old and between 5 to 5'6" tall.
The UT1000 boasts Shimano components for everything from the derailleurs to the shifters and gears. It also features front and rear wheels disc brakes, offering safe braking on challenging terrains. Lightweight but double-walled solid alloy rims protect the bike's 27.5-inch wheels.
Another handy feature is the adjustable seat, which can be easily set to your height with a quick-release clamp. Plus, the bike has a front suspension and vibrant colour and design on the frame, making the UT1000 one of the best bikes under 10000 for adults in India.
Advantages:
Includes a diet plan you can tailor to your needs.
Features a dependable and adaptable design.
Pedals are non-slip and come with reflectors.
Disadvantages:
It lacks a mudguard, which is a disadvantage for a mountain bike.
Doesn't come with night reflectors.
Not ideal for taller riders.
4. Hercules' Flunk RF 26T
The Hercules Flunk RF is another bicycle that makes our list. This road bike, one of the top under 10k in India, features 26-inch tyres and a 17-inch steel frame. This bike could be an excellent fit for you if you stand anywhere between 5 feet to 5'8".
The cycle's double-walled rims are crafted from aluminium, providing extra stability. It also has mechanical disc brakes on both wheels. The front rigid fork helps with better control and enables good speed on flat roads.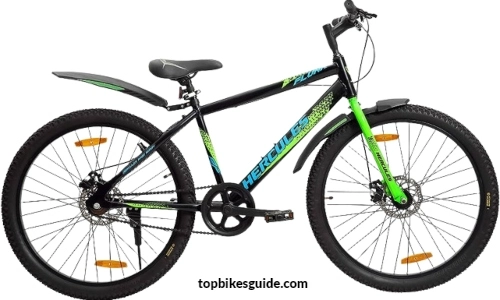 The Hercules Flunk RF arrives 90% put together, and a toolbox is included for ease. It's a solid choice for those aged 12 and up and for adults. It's easy to manage, safe, long-lasting, and, most importantly, one of the best bicycles available under 10000 in India.
Advantages:
Ideal for beginners and kids because it has just one speed.
It comes with reflectors, making night rides safer.
Great for riders who are a little short.
Seat height can be easily adjusted using a quick-release clamp.
Brake levers made of alloy fit well with the handlebar.
Disadvantages:
Doesn't have a front suspension.
It lacks mudguards and a place to hold a water bottle.
There are better choices for taller individuals.
5. Cradiac's Xplorer 29T
Finally, we have the Cardiac Xplorer! This is one of the top single-speed mountain bikes you can buy in India for less than 10000 rupees. Its features include dual disc brakes, double-walled alloy rims, a stand, and more. Its colour makes it stand out among bikes in this price range.
The bike has an 18-inch steel frame and a suspension fork that absorbs shocks well, making your ride smooth even on rough surfaces. The 29-inch nylon tyres are a great feature; they're durable and don't wear out quickly.
The Cardiac Xplorer arrives fully put together. It's best for riders who are about 5'8″ or taller. Overall, adults can pick the top gearless cycle under 10000. It's functional and stylish, with solid grips and a comfy, adjustable padded seat.
Advantages:
The seat is comfy and filled with PU foam.
Comes in two different colours.
It has a suspension fork that's great at absorbing shocks.
Includes a mudguard, stand, and all necessary reflectors.
Disadvantages:
Not the best fit for shorter riders.
Conclusion: 10 Best Cycles Under 10000 in India 2023
Whether you spend 10000 rupees or more on a bike, the quality, features, and how it performs are what count. We've compiled a short guide about the top 5 bikes you can get for under 10000 rupees in 2023 to help you find the best one.
To sum up, while many bikes have similar features, what's important is finding the one with that extra feature that suits your riding style. This could be something as simple as a comfy seat or something more complex like a unique suspension type.
We hope our guide helps you make a more intelligent decision when buying your bike. If you have any questions, please ask them in the comments section below.
Related: 7 Best Bicycles for 12 Year Old Boy In India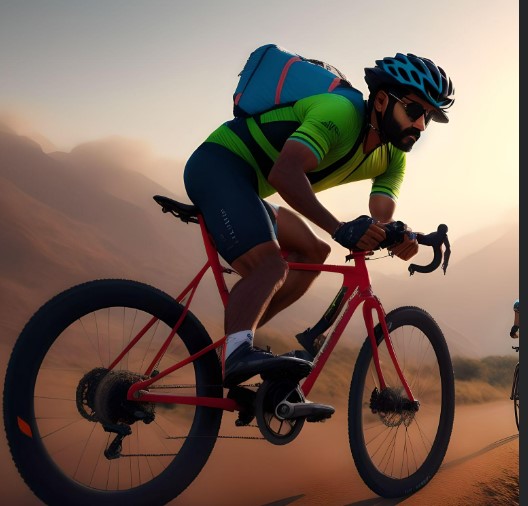 A passionate cyclist with an unwavering love for the open road and founder of topbikesguide.com . Energetic and dedicated, this enthusiast embraces the thrill of speed and the freedom of two wheels.