Hero Cycles is a popular and long-standing bicycle brand in India. This article will discuss the Top 6 Hero Gear Bicycles equipped with Disk Brakes available in India. The selection of these bicycles is based on certain factors:
Construction Strength: The durability and strength of a product is often one of the most important factors to consider. This refers to how well the product can withstand wear and tear and how long it is expected to last.
Cost in India: This refers to the product's price in India. It's important to note that prices can vary based on factors such as exchange rates, import duties, and local taxes.
Total Features and Worth for the Price: This involves assessing all the product's features and determining whether these features provide good value for the price. This will often involve comparing the product to similar products on the market.
After thoroughly examining many Hero Geared Cycles with Disc Brakes for several hours, the Hero Octane Endeavour is the top choice in this category. When I wrote this, the bicycle's price was well under Rs. 15,000. It features 21 Speed Shimano gears, a lightweight, sturdy Aluminium Alloy frame, and a comfortable front suspension.
But, if your budget is around Rs. 6000 to 7000, the Hero Sprint Next model could be a great pick. The cost can change based on the model and size you select.
Each of the Hero Cycles mentioned in this list shares these features:
Every bicycle has a minimum of 18 Gears.
At least one wheel on each cycle is equipped with disc brakes.
Each cycle includes at least one suspension.
Leading Five Hero Gear Bicycle Models:
1. Hero RX2 Sprint Bike
The Hero RX2 Sprint bike is quite a sight to behold. It comes with a double suspension (both at the front and back) that makes your ride smooth and enjoyable. The handlebars are set higher than the seat, adding to the ease of riding. Adding a gel cover to the seat can make your rides even better.
Main Highlights:
Gear System: This bike has 21 gears that use simple thumb shifters. Do remember, these gears are not from Shimano.
Body Material: The bike's body is made of steel, so it's a bit on the heavier side.
Mudguards: Both front and rear mudguards are included with the bike. They're made of plastic.
Tire Size: The tires are of a standard size, 26 x 2.125 inches.
Brake System: A disc brake is fitted on the bike's front wheel.
Related:  Best Single Speed Cycles Under 10000
2. Hero Octane Endeavour (Sprint Pro)
The Hero Octane Endeavor: Sprint Pro is a great option for a sturdy bike that can handle all surfaces. Its vibrant and appealing color mix and the decals add a nice touch.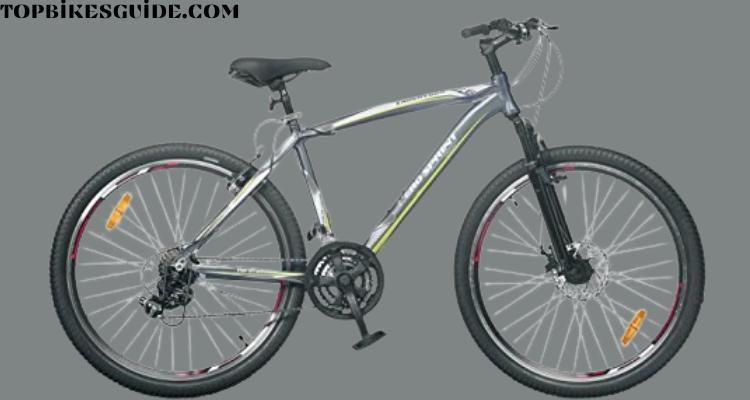 This bike features a front suspension only, which I prefer for several reasons:
They require less energy to pedal.
The front suspension can deal with most small bumps (though I'd advise avoiding the larger ones)
They need less upkeep. Typically, the fewer complex parts a bike has, the less maintenance it requires.
If two similar bikes are priced the same, the one with fewer fancy features or costly parts usually has superior overall build quality (Remember, bike manufacturers need to profit to stay in business. So if they're providing lots of features, they're likely cutting costs elsewhere)
Main Highlights:
Frame Material: The bike's body is made from mild steel, giving it a solid feel.
Gear System: The bike features 21 Shimano gears with a quick thumb-shifting mechanism.
Brake System: A disc brake is fitted on the bike's front wheel, while the back wheel uses V-brakes.
Tire and Wheel Details: The tires are standard size at 26 inches. The wheels feature double-walled alloy rims, letting you ride over any surface without many tire problems.
Suspension: This is a hardtail MTB with no rear suspension. The front does have a fork suspension, though.
3. Hero Octane DTB Plus
This is the third cycle on my Top Hero Gear Bikes with Disk Brakes list. The Hero Octane DTB Plus is a well-crafted mountain bike that offers comfort.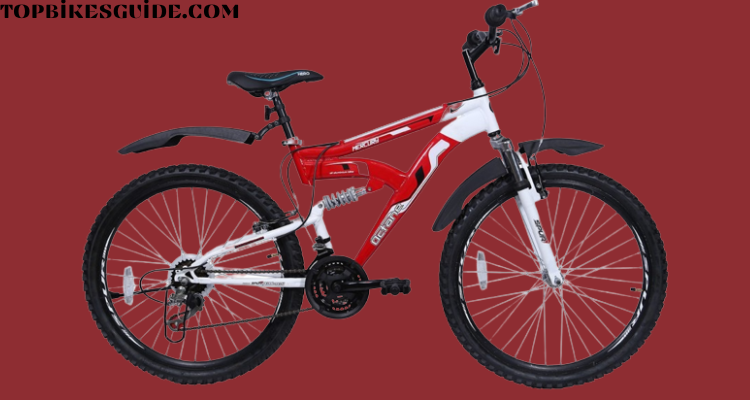 This bike is perfect for children who want to ride around with their buddies or for adults who want to exercise in the park. It's equipped with dual suspension, ensuring a smooth ride even on rough paths.
Main Highlights:
Bike Frame: The bike's body is crafted from mild steel.
Gear System: The bike has 21 Shimano gears that work smoothly and are simple to change thanks to thumb shifters.
Suspension: It features dual suspension.
Tire Size: The tire dimensions are 26 x 2.125 inches.
Brake System: This bike uses a V-gear setup; it has disc brakes on the front wheel, while the back wheel uses rim brakes.
4. Hero Octane Dude
Here's another Octane for you. This bike is much like the one we discussed earlier but only has a front suspension. It's designed to be ridden at high speeds. It's not a casual ride but a real mountain hybrid bike.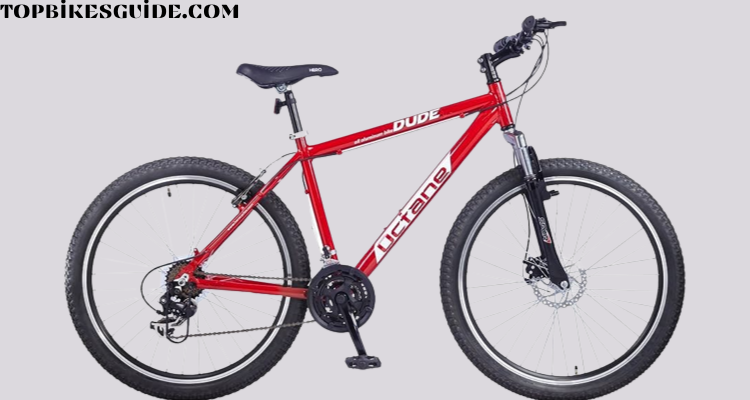 You can find it in blue and red colors on Amazon. It's suitable for teenagers (15 and older) for short trips or school commutes. Adults new to biking can also use it for short travels of around 5 to 7 kilometers.
Main Highlights:
Frame Material: The bike frame is made from steel.
Suspension: There's a suspension, but it's only for the front wheel.
Tire Size: The tires are 25 inches in size.
Gear System: It has 21-speed Shimano gears for smooth riding.
Front Tire Feature: The front tire has a quick-release feature, making it easy to take care of.
5. Hero Sprint Next
This is the final bike by Hero on my list. It's among the most affordable bikes in India, with gears and disc brakes. That's probably why it's so popular online.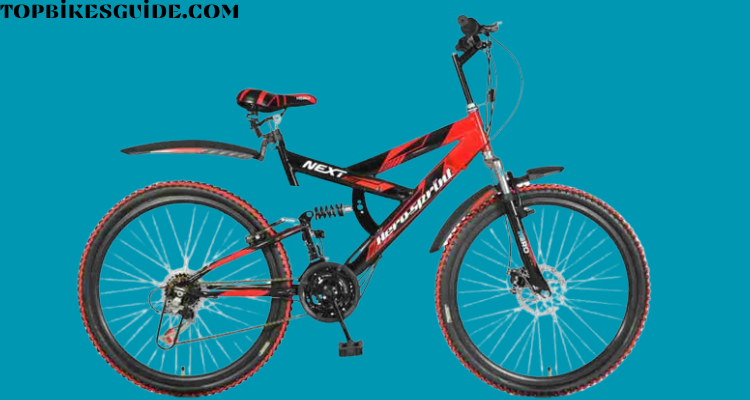 I'm not too fond of the design and color of this bike. The saddle graphics could be improved. The same goes for the green color on the wheels. But, the color will likely fade as you ride it on roads or dirt trails. There's also a red and black model that looks a bit nicer.
Main Highlights:
Unique Feature: This bike stands out with its 18 Speed gears (Shimano).
Construction: The bike is constructed with a durable steel frame.
Additional Accessories: It has mudguards, a side stand, and front and back reflectors.
Comfort: The bike is equipped with dual suspension for a comfortable ride.
This assessment guided you in picking the right bike for your needs.
Read Also: 17 Best Cycles Under 5000 In India 2023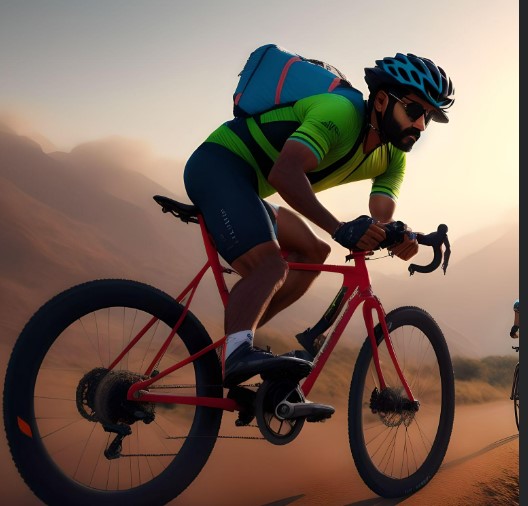 A passionate cyclist with an unwavering love for the open road and founder of topbikesguide.com . Energetic and dedicated, this enthusiast embraces the thrill of speed and the freedom of two wheels.