Hercules, a long-established bicycle maker from TI Cycles of India, is a big name in the country's bike industry. They're primarily known for their mountain bikes (MTBs) and have always been trendsetters. The Hercules Roadeo NFS is another example of their dedication.
They've done an excellent job designing this bike and its parts. We tested it out on different types of ground.
Let's examine our Hercules Roadeo NFS review and see how it did during our trial run.
Ready? Let's begin!
Expert Analysis on Hercules Roadeo NFS
After reviewing the Hercules Roadeo NFS 29t review, you'll understand if this mountain bike fits you. You'll also learn if spending less than 20,000 rupees on this bike in India is worth it. We'll share our thoughts about this bike too.
An Overview of the Roadeo NFS Frame
The frame of the Roadeo NFS by Hercules is one of their best, made from lightweight alloy material. It shines with a high-end matte paint finish and water decal stickers.
Weighing only 16.5 kg, this bike can compete with brands from abroad. The eye-catching graphics and design give it an extra edge.
The Roadeo NFS frame's design and shape The frame's top tube is tilted, making the bike suitable for both men and women. Spots are already set up to hold a water bottle for those long rides. The brand's logo is displayed on every part of the bike frame, from the top tube down to the bottom.
As for the colours of the Hercules Roadeo Cycle NFS, it comes in three vibrant options: red, green, and yellow, all combined with black. A unique feature of this bike is the low welding of the seat stays, which gives the bike a distinctive look and allows the rider to sit more upright.
Steering Components: Fork and Handlebar
The Roadeo NFS, a sturdy mountain bike, has a threadless steel suspension fork. This feature does an excellent job cushioning bumps, making your ride smooth. We've experienced this comfort firsthand on various trails.
This mountain bike also boasts an alloy stem from XMR and a 660mm XMR bird-style handlebar decked out with rubber grips. These additions ensure a relaxed riding posture.
Additionally, the bike has been fitted with thumb shifters from Microshift. These shifters operate smoothly with just one push, and their quality is top-notch.
Power Transmission Mechanism (Gear System)
This mountain bike has a 21-speed gear system with three front and seven rear gears. It's powered by a Microshift setup, with a Mezzo M20 on the front and a Mezzo M21 at the back.
The Mezzo gear set is on par with Shimano's Tourney set. But the Mezzo ran more smoothly when we tested it than the Tourney. It switched gears quietly, and the chain quality and Shimano's freewheel were top-notch.
The bike uses Microshift TS-38 thumb shifters to control the front and rear gears. These shifters used a push mechanism and performed flawlessly during our test ride.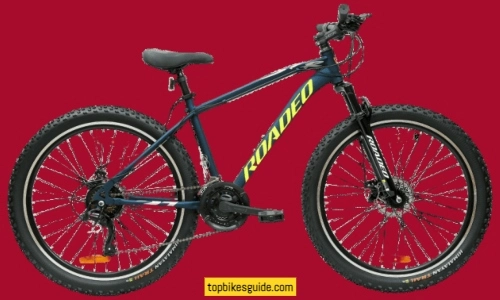 4. The Stoppage Mechanism
The Hercules Roadeo NFS bike has 160mm mechanical disc brakes both front and back. We've tried these brakes on various grounds and at different speeds, and they stop quickly and effectively, much like hydraulic disc brakes.
This gave us the confidence to ride downhill and on slippery roads. Even during our rain tests, the brakes worked just as well.
These disc brakes require regular upkeep for optimal performance compared to rim brakes.
But remember, whether you're a newbie or an experienced rider, don't slam on the brakes while riding unless it's an emergency. Always brake gently.
The Roadeo NFS's brakes are controlled by sturdy alloy levers, which are more durable than plastic ones. Plus, you can use 3 or 4 fingers to pull these levers, giving you better control over braking.
Wheel Rims and Treads
The Hercules Roadeo NFS bike has 29-inch double-walled alloy XMR rims. These rims are matched with 2.25-inch wide DSI nylon tyres, which are great for mountain bikes. The edges are harsh and can handle riding on trails. The brand cleverly added the name 'Roadeo' in bright orange on both edges, making the bike look cool.
The tyres are wide enough for both rough trails and city streets. The top feature of these tyres is their superior grip on any surface, wet or dry. They also help absorb shocks along with the suspension fork, adding to the ride's comfort.
You can get the Roadeo NFS in two wheel sizes, 27.5t and 29t. Choose the 27.5t size if your height is between 5 feet and 5 feet 6 inches.
The bike rolls well and can reach a good speed on any terrain. We found it comfortable and grippy during our test ride. On flat roads, these tyres can help you get an average speed of around 20 km/h.
6. Bike Seat and Post Configuration
The NFS bike has a comfortable seat made by XMR. It's filled with soft PU foam and has a neat design with excellent pictures. The centre is smooth and wide, which makes it comfy for long rides.
If you're heavier or planning to ride a long way, we suggest wearing cycling shorts with gel padding. This will help you ride longer without discomfort.
Bike Pedals and Safety Reflectors
The bike has top-notch plastic pedals. They make the bike a bit lighter but still strong and secure. The pedals have treads, so your feet won't slip off. Plus, they have reflectors to help people see you when you ride at night.
We found the pedals easy to use and steady during our test ride because they don't skid. Reflectors are essential for staying safe on night rides.
The Roadeo NFS bike has reflectors that meet EN standards. There's one on the handlebar so people can see you from the front, one on the seat post for visibility from the back, and some on the spokes for visibility from the side.
Pros and Cons of the Hercules Roadeo NFS 29t Bike
Pros:
The 21-speed micro-shift drivetrain changes gear smoothly.
The logan mechanical disc brakes work well.
The wide DSI nylon tires grip the road well.
The paint and decal stickers look lovely.
It comes with a sturdy side stand.
Cons:
We are still looking for problems.
Who is the Ideal User for the Hercules Roadeo NFS Bike?
If you're searching for a sturdy, well-geared bike with disc brakes that can handle both Indian streets and off-road trails, the Roadeo NFS is an excellent choice. It's perfect for those wanting to keep fit, get around, or enjoy a leisurely ride.
For over a month, I've been using this bike on all sorts of terrain, and it's been superb. The design is eye-catching, and the alloy frame is light and durable. Scroll up for more details. Therefore, the Hercules Roadeo NFS fits the bill if you're looking for a top-notch geared bike under 20000 in India.
Should You Consider Buying the Hercules Roadeo NFS Bike?
Yes, buying the Roadeo NFS gear bike is a good idea. It's a top-quality bike with features like a metal frame, two disc brakes, broad tires with great grip, front shock absorbers, an excellent water decal design, double-layered metal rims, and 21-speed gears for various terrains.
In short, this bike gives you a lot when you ride. Plus, it comes with a 2-year warranty on the frame and fork. Pay attention to the fact that Hercules is a leading bike brand in India.
Conclusion: The Cycling Experience with the Roadeo NFS 29t
We've tried this mountain bike on all surfaces, from flat roads to paths, going up and down hills. The ride was excellent on this bike; it was comfy and safe.
On streets, it worked wonderfully and gave a good speed for a mountain bike, thanks to the metal frame that made it light. We could go as fast as 30 km/h on flat roads using high gears, but this can change for each person.
As for riding off-road (on paths), it's ready because of the wide tires and the steel suspension fork without threads. They take in most of the shock, so you feel fewer vibrations when biking in the mountains. We could go as fast as 20 km/h while riding on paths.
We always suggest wearing a high-quality bike helmet when riding a bike, whether on the streets or trails. It guards your head and also makes you feel more sure of yourself.
If you want a top-notch mountain bike that's good for rides over long distances, going off-road, or just for fun, then the Hercules Roadeo NFS is the one for you!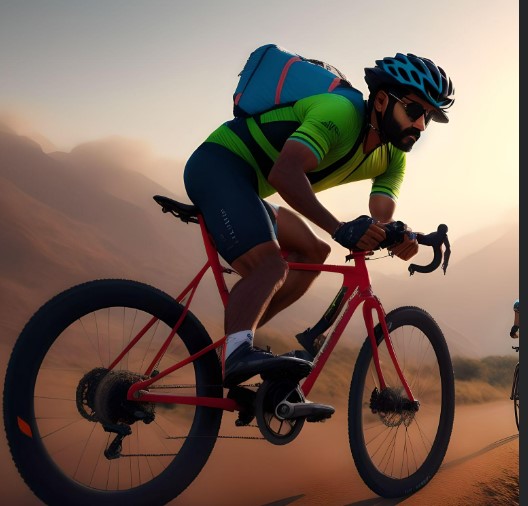 A passionate cyclist with an unwavering love for the open road and founder of topbikesguide.com . Energetic and dedicated, this enthusiast embraces the thrill of speed and the freedom of two wheels.