This article will discuss the top-rated bicycles for women in India, complete with their cost details. I've compiled a list of the 10 best bikes Indian women will surely enjoy riding. These bikes were selected based on their features, construction quality, and price.
The bike that stood out in my evaluations was the Mach City iBike 7 Gear for women. With a price of around Rs. 10,000, it's fairly affordable, considering its superior build quality and features.
Alternatively, consider this excellent choice from Decathlon. This bike is offered in two sizes. To discover the perfect fit, click the "Find your Size" button next to the dropdown menu where you choose the bike size.
Now, let's delve into more detailed reviews.
An In-depth Review and Cost Analysis of the Finest Bicycles for Women in India
1. Mach City iBike W:
Mach City is a company that's part of BSA. They make great everyday bicycles. The best thing about their bikes is that they're sturdy but are relativmuchpensive.
They have different models for the different needs of their customers.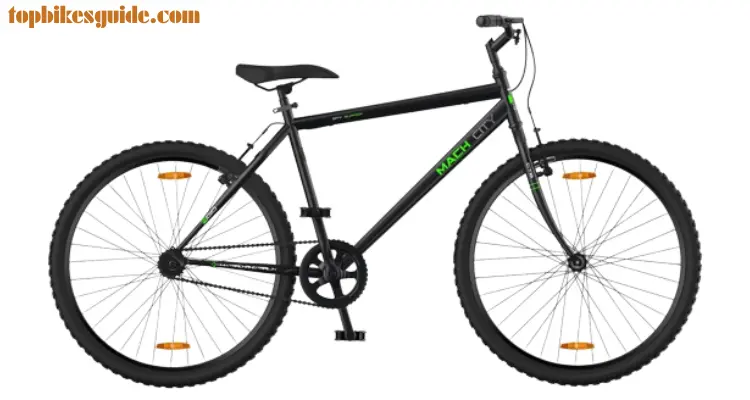 Their iBike W comes in two types – one with 7 speeds and another less expensive one that doesn't have any gears.
Main Highlights:
Frame Type: Built with a sturdy steel frame (No springs)
Wheel Size: Has 26 Inch wheel size
Gear Options: Comes in one-speed or with 7 gears with Revo shifters type
Brake System: Uses wire brakes – These work well for everyday use
Recognition: This bike is also on my list of top bikes in India.
2. Huffy Savoy
This is a strong and nice-looking bike from the Huffy company. It's perfect for everyday use. This mountain bike has 21 gears, making it one of the few such bikes for women in India. You can ride it to work or just around your home or park.
The price of this bike is similar to the Mach City iBike. The Mach City iBike is made for city riding, but the Huffy Savoy is better for those who like to check out trails near their home.
Main Highlights:
Material: The bike is built with strong steel.
Gears and Shifters: It has Shimano gears (21-speed) and a shifter that twists.
Tires and Rims: 26″ x 1.95″ Trail Edge tires. The rims are made from a type of metal called an alloy.
Suspension: It also has a front suspension to make riding on trails smoother and more comfortable.
3.Schwinn Super Sport 3:
If you've ridden bikes before and need a good one for travel, the Schwinn Super Sport 3 is great.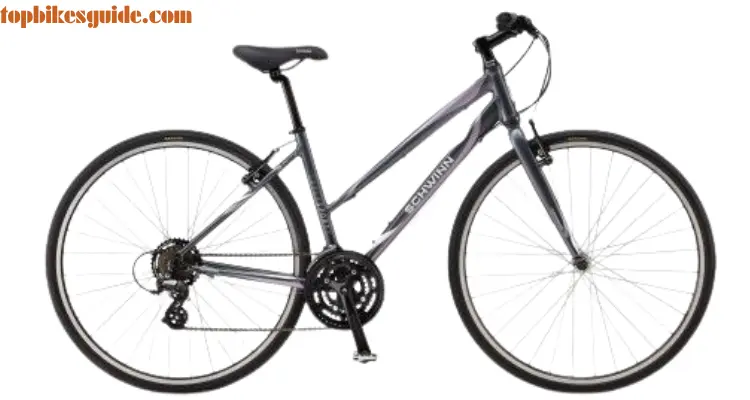 This bike has larger 29 Inch tires, designed for both speed and comfort. Its sleek black and purple color scheme also has a stylish look. It's one of the top gear bikes for women in India.
Main Highlights:
Price and Value: This bike costs around 15000 Rs. on Flipkart (when I'm writing this – check the link above for the current price). The parts used on the bike make it worth the price.
Material and Durability: It's built with a lightweight Aluminium alloy frame, which helps prevent rust.
Gears and Shifters: It comes with 21-speed gears (Shimano) and uses easy-to-use fire/thumb shifters. (The Mach City above uses Revo Shifters)
Tires and Rims: The tires are 29 Inch Kenda K-193, 700x32c. The rims are made from a double-walled alloy.
Warranty: The company provides a limited lifetime warranty on the Frame, 5 years for the Fork, 3 months for the Chain, Saddle, and Grip, and 6 months for the Handlebar Seatpost and Stem. Plus, 1 year for the Tyres, Wheelset, and Drivetrain Groupset (Crank, Cassette, Bottom Bracket).
4. BSA Ladybird Breeze
The BSA Ladybird is a top-selling women's bike brand in India. At first, it was only one model that came in different colors. Now, there are many LadyBird models to pick from.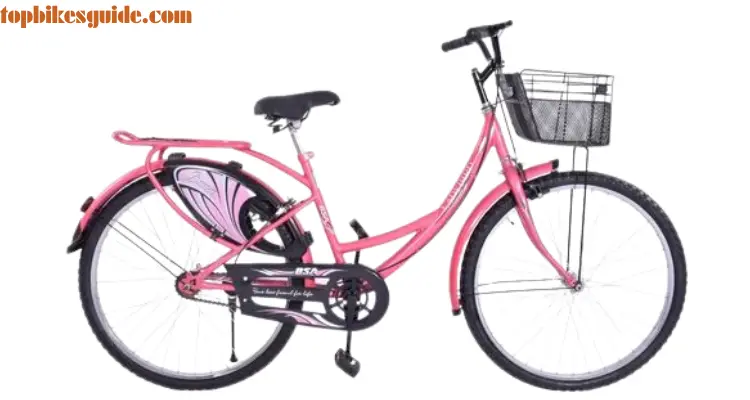 The BSA Ladybird Breeze is one of their best models right now. You can get this model in several colors, such as Purple, Pink, Blue, Red, and Sky Blue.
Main Highlights:
Bike Sizes: This bike comes in 26 Inch and 24 Inch tire sizes. You can choose the one that fits your height (26 Inch tire is the standard bike size).
Frame Material: The bike's frame is constructed from durable steel.
Additional Accessories: This model has extra features such as a basket on the handlebars, a chain cover, a luggage rack, and a saree guard on the back wheel.
5. Atlas Ultimate City Diva
The Atlas Ultimate City Diva ladies' bike can be described as simple yet effective. Its sky-blue color gives it a cool and elegant look. The bike's design is straightforward, with no flashy graphics.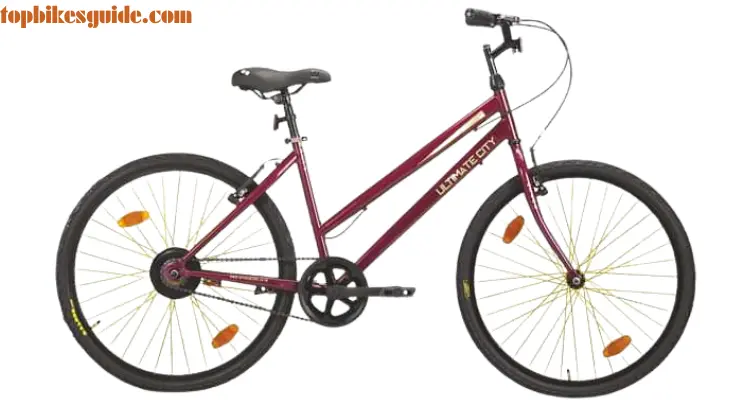 The bike offers a pleasant ride. It has high handlebars that give you a relaxed and comfy riding posture. If you plan to use it for daily commuting, add mudguards.
When writing this, the bike cost between 7 to 8 thousand rupees. You can click the link below to see the most recent price online.
Main Highlights:
Speed Configuration: Bike with one speed (no gears)
Braking System: Wire brakes on both the front and back tires
Bike Frame: Frame made of steel
Suspension Status: Lacks suspension
Wheel Details: The bike has 26-inch tires (made by Ralson). The rims are crafted from an aluminum alloy.
6. Hercules FX 100
This is the next mountain bike on my list of top women's bikes in India, following the Huffy Savoy. In reality, both these bikes can be considered suitable for all genders.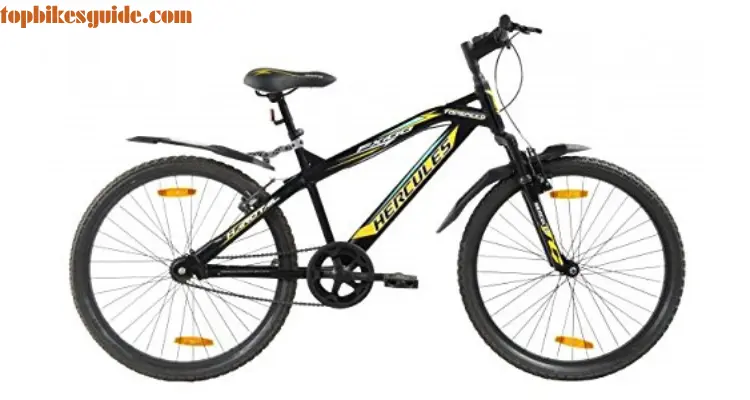 The bike is a vibrant orange color that will make you stand out wherever you go. It has a daring style and is equipped with mudguards and front suspension.
Main Highlights:
Material of Frame: The bike's frame is built from steel
Speed Configuration: The bike has only one speed and doesn't have gears
Brake System: Wire brakes are used on both wheels
Tire Size: The size of the tires is 26 inches
7. Cosmic Colours
This bike has the most classic look among all the bikes listed. It has a very low-top bar, which benefits women still learning to ride.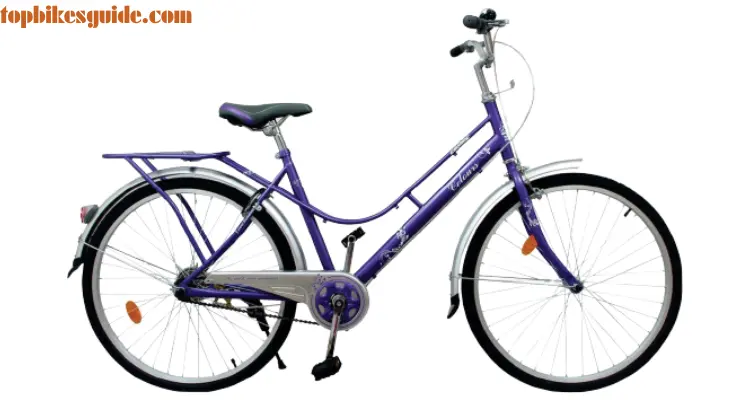 The bike has a grey and pink color scheme. The maker could have chosen more appealing colors.
The bike provides a very comfy ride. You'll also find stepping down and touching the ground very simple.
Main Highlights:
Material of Frame: The bike's frame is built from steel
Speed Configuration: The bike has only one speed and doesn't have gears
Brake System: Wire brakes are used on both wheels
Tire Size: The size of the tires is 26 inches
8. Hero Miss India Gold
Hero's Miss India Gold is a line of bikes aimed to rival BSA's LadyBird. Like the Ladybird, the features of this bike are very similar.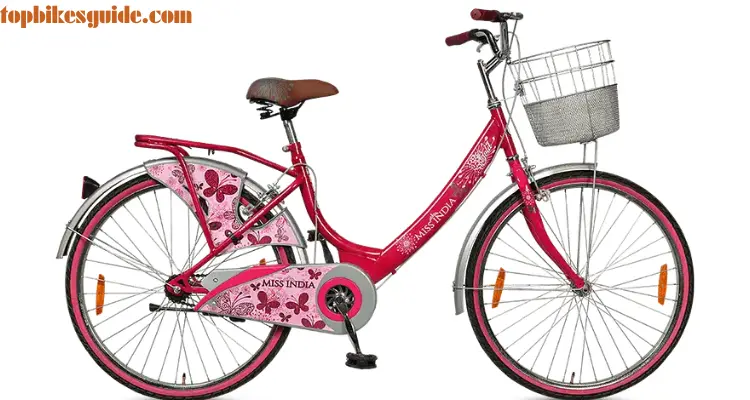 Most models come with extras like a basket on the handlebars, a chain guard, a rack, and a saree guard.
9. Kross Gauzy
The Kross Gauzy bike blends old and new styles well. It has an old-fashioned mudguard shape but features modern colors, designs, and a sleek frame shape. The bike is easy, thanks to its bird-like handlebars and low seat.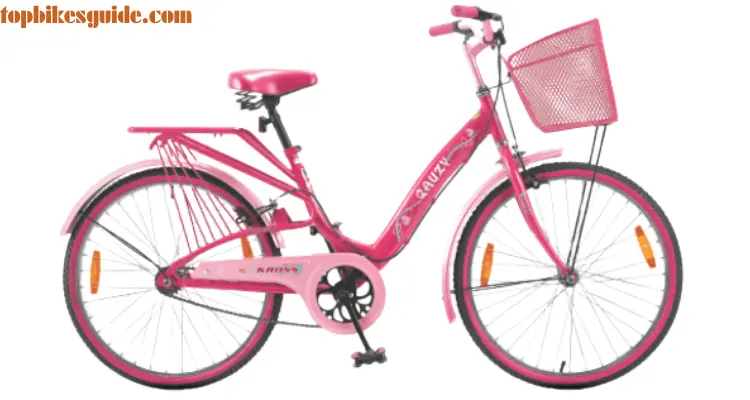 Plus, the absence of a top bar on the frame makes it convenient to ride, even in skirts or sarees. This bike has only one speed and comes with regular 26-inch tires.
10 . Avon Sherry
Avon Sherry is a vibrant bike designed for young girls. It stands toe-to-toe with other popular models like Ladybird and Hero Miss India. The design, color, and features of these bikes are quite alike.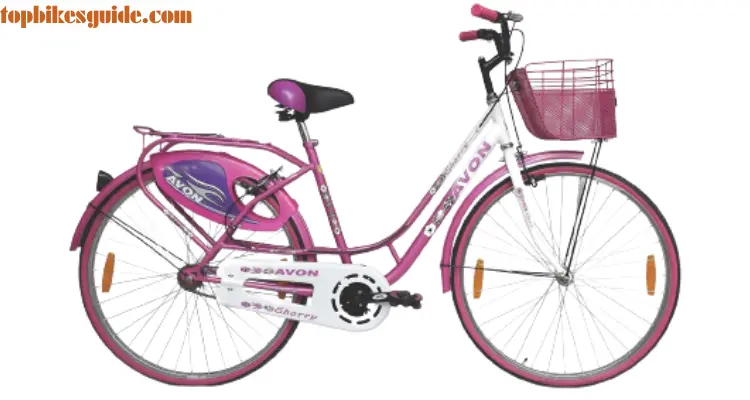 These bikes also have similar price tags. You can purchase the Avon Sherry online for about 5000 to 6000 Rs. (The price when this article was written)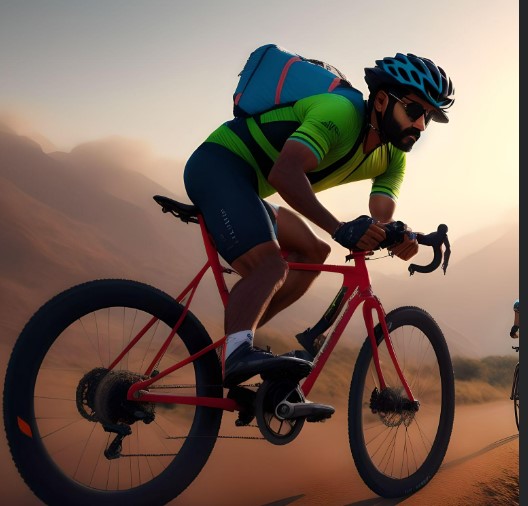 A passionate cyclist with an unwavering love for the open road and founder of topbikesguide.com . Energetic and dedicated, this enthusiast embraces the thrill of speed and the freedom of two wheels.