This summary discusses the top-rated Women's Bicycles in India, including cost details. I've compiled a list of the 10 best bikes Indian women will surely enjoy riding. The selection was based on their attributes, construction quality, and cost.
The Mach City iBike 7 Gear for Women was my favorite in reviews. It is reasonably priced, around Rs. 10,000, and doesn't seem too costly considering its excellent build quality and the features provided.
Another good choice to consider is the bicycle offered by Decathlon. This bike comes in two different sizes. You can easily discover the perfect size by clicking the "Find your Size" button next to the drop-down menu where you choose the bike size.
Top-Rated Bikes for Women in India:
1. Huffy Savoy
The Huffy Savoy is a stylish and strong bike from the Huffy brand. It's perfect for everyday use. This mountain bike, equipped with 21 gears, is one of the few available for women in India. You can conveniently use it for daily travel or cycling around your home or park.
This bike is similarly priced to the Mach City iBike. While the Mach City iBike is designed for city riding, this bike is better suited for those eager to discover local trails.
Key Points:
Material: The bike is crafted from strong steel.
Gears: It features Shimano gears (21 speed) and a twist-style gear changer.
Tires and Rims: 26″ x 1.95″ Trail Edge tires. The rims are alloy-made.
Suspension: It includes a front suspension for a smoother ride on trails.
2. BSA Ladybird Breeze
BSA Ladybird is a top-selling and well-liked women's bike brand in India. At the start, it only offered one model in various colors. Now, there are many LadyBird models to pick from.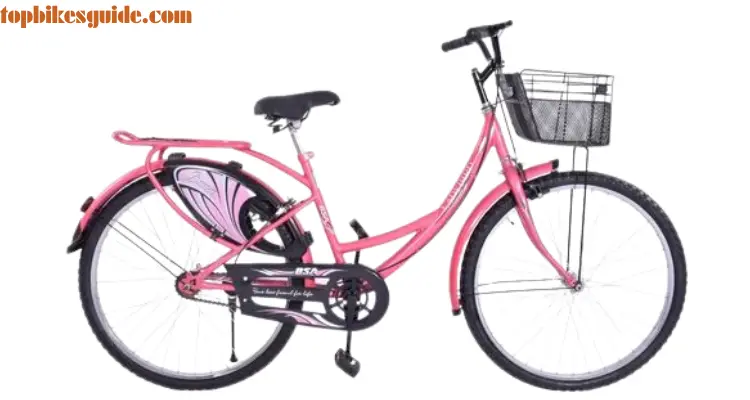 The BSA Ladybird Breeze is currently a very popular model they offer. This model comes in many colors, including Purple, Pink, Blue, Red, and Sky Blue.
Key Points:
Bike Sizes: This bike comes in 26 Inch and 24 Inch tire sizes. Choose according to your height (26 Inch tire is standard).
Frame Material: The bike's Frame is crafted from steel.
Additional Accessories: This model includes extras like a basket on the handlebars, a chain cover, a luggage rack, and a saree guard on the rear wheel.
Other Ladybird Models: Other well-liked Ladybird models to consider are BSA Ladybird Bliss, Ladybird Shine, and Ladybird Dreamz.
3. Atlas Ultimate City Diva
The Atlas Ultimate City Diva ladies' cycle is a model of simplicity and effectiveness. Its sky-blue hue adds a touch of elegance and sophistication. The bike sports a minimalist design devoid of excessive graphics.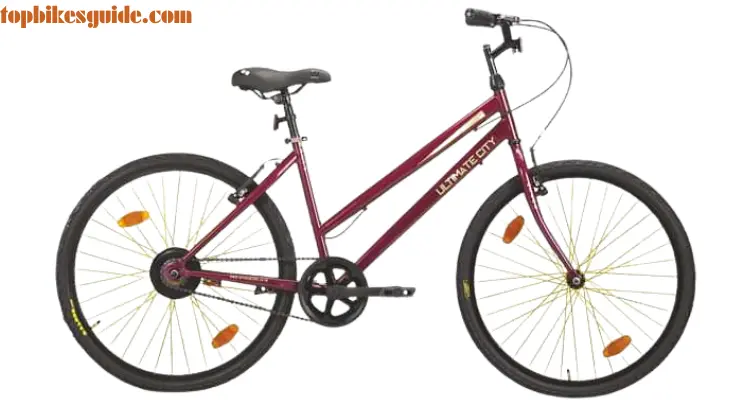 The quality of the ride doesn't disappoint either. The elevated handlebars facilitate a comfortable riding stance. Adding mudguards would be wise if you intend to use them for daily commuting.
When this piece was written, the bicycle was priced between 7,000 and 8,000 rupees. To get the most recent price, follow the link below.
Key Points:
Bike Speed: This bicycle has one speed (no gears).
Brake System: Both front and rear tires have wire brakes.
Frame Material: The Frame is made of steel.
Suspension: The bike doesn't have a suspension.
Tire and Rim Details: The tire size is 26 inches (made by Ralson Tyres) with rims crafted from aluminum alloy.
4. Mach City iBike W:
Mach City is a company under BSA that makes great everyday bicycles. Their bikes are sturdy yet not too costly. They offer different models to match the needs of their customers. Their iBike W comes in two versions: one with seven speeds and a more affordable one without gears.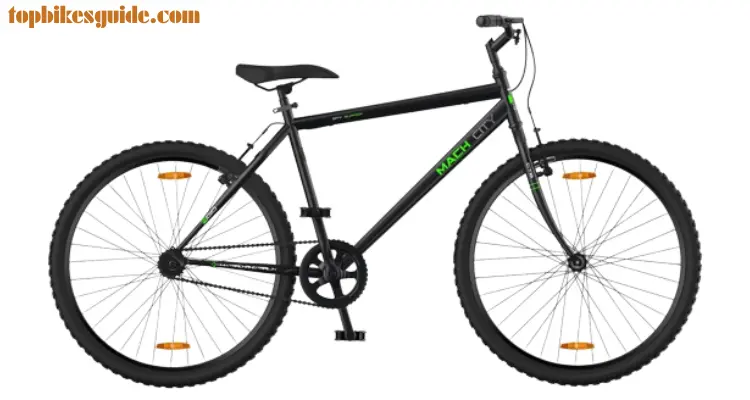 Key Points:
Frame Material: Built with a sturdy steel frame (no suspensions).
Tyre Size: Features 26-inch tires.
Speed Options: Available in single-speed or a seven-gear model with Revo shifters.
Brake System: Uses wire brakes, suitable for regular use.
Recognition: This bicycle is included in my list of top cycles in India.
Read More: Top 10 Best Sports Cycles For Women
5.Schwinn Super Sport 3
Are you familiar with bike riding and searching for a great bike for travel? The Schwinn Super Sport 3 could be just what you need.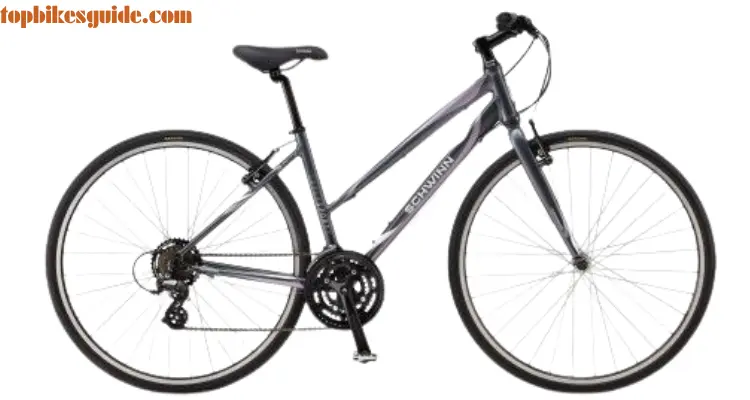 This bike comes with larger 29-inch tires designed for quickness and coziness. It boasts a stylish look with a mix of black and purple shades. It's also considered one of the top gear bikes for women in India.
Key Points:
Pricing and Availability: The bike is valued at around 15000 Rs. on Flipkart (Price at the time this was written – for the current price, click the link above).
Material and Durability: The bike is constructed from a lightweight Aluminium alloy frame which also helps to prevent rust.
Gear System: It features 21-speed gears (Shimano) and uses simple fire/thumb shifters. (Unlike the Mach City, which uses Revo Shifters)
Tires and Rims: The tires are 29 Inch Kenda K-193, 700x32c. The rims of the bike are made from a double-walled alloy.
Manufacturer Warranty: The manufacturer offers different warranty periods for different parts: a limited lifetime warranty for the Frame, 5 years for the Fork, 3 months for the Chain, Saddle, and Grip, 6 months for the Handlebar Seatpost and Stem, and 1 year for Tyres, Wheelset, and Drivetrain Groupset (Crank, Cassette, Bottom Bracket).
Check out the review by Distant Cyclist for a visual touch.
6. Hercules FX 100
This bike is the second mountain bicycle on my list of top ladies' bikes in India, following the Huffy Savoy. Both these bicycles can also be used by both men and women.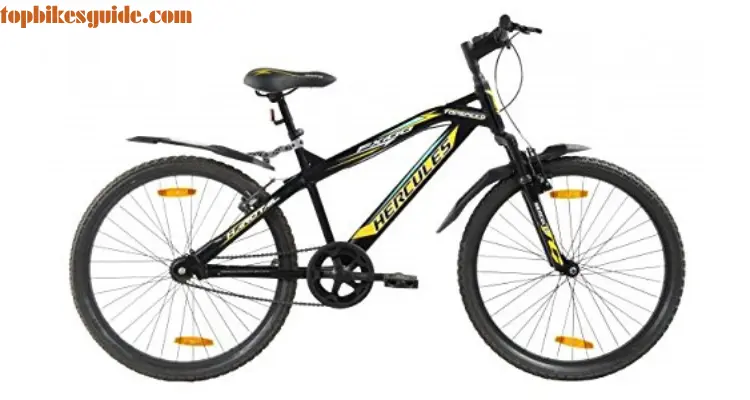 The bike is bright orange. Its bold color will make you stand out wherever you go. It comes with mudguards and a front suspension.
Key Points:
Bike Frame: The bike's structure is built from steel.
Speed System: It's a one-speed bicycle (without gears).
Brake System: Both wheels are equipped with wire brakes.
Tire Size: The size of the tires is 26 inches.
7. Cosmic Colours
This bicycle has the most classic look among all on the list. The upper part of the Frame is very low, which is helpful for women who are still learning to ride.
The bike comes in a grey and pink color mix. The maker could have chosen better colors.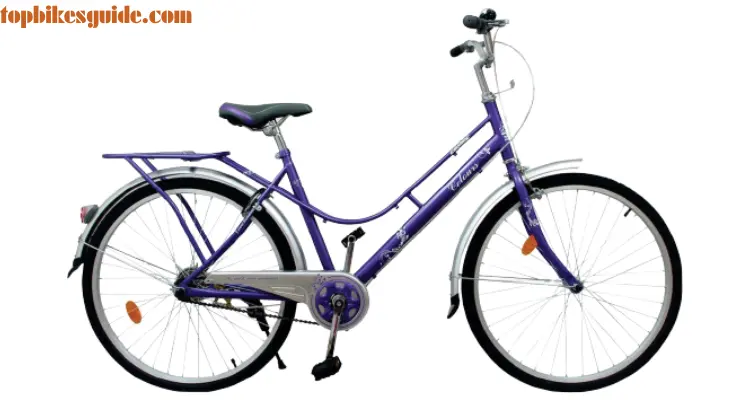 Riding this bicycle is comfy. You'll also find stepping off and putting your feet on the ground super easy.
This bike has the same features as the previous one, so I won't repeat them here. You can check out Flipkart by following the link above for more information about this model.
8. Kross Gauzy
This bike blends old-fashioned features like the shape of the mudguard with modern touches such as color, design, and frame shape.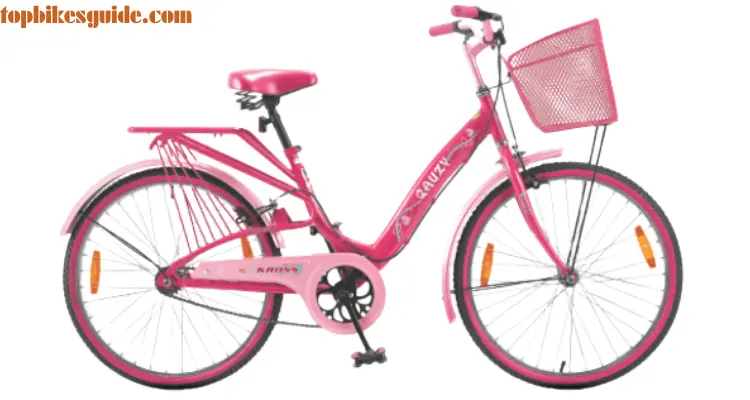 The bike's bird-like handlebars and low seat make it comfy to ride. The frame's missing top bar allows easy riding in a skirt or saree.
This bike has a single-speed and comes with standard 26-inch tires.
9. Hero Miss India Gold
Miss India is a line of bikes from Hero that rivals BSA's LadyBird. As mentioned before, this bike's features closely resemble Ladybird's.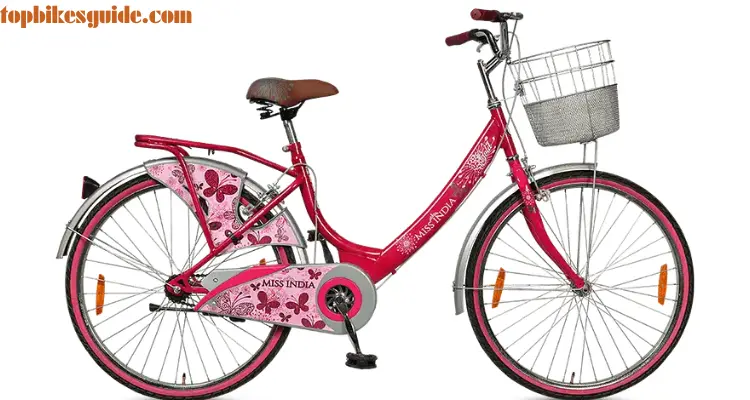 Most models also come with extras like a basket on the handlebars, a cover for the chain, a carrier, and a saree guard.
10. Avon Sherry
This is a vibrant-coloured bike designed for young ladies. Avon's bicycle competes with other brands like Ladybird and Hero Miss India. The colors and features of these three bike models are similar.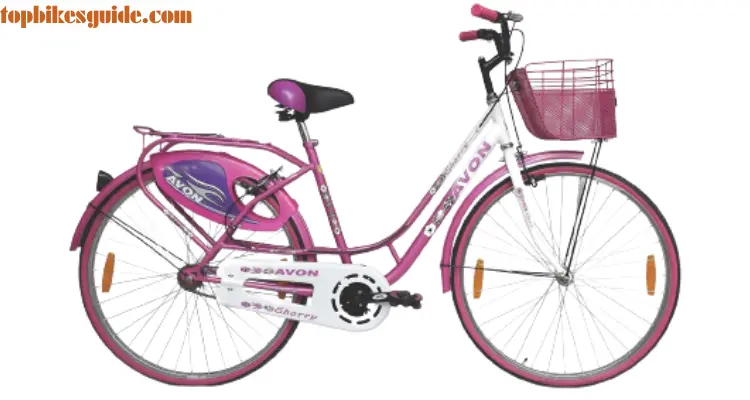 The cost of these bikes is also alike and competitive. You can purchase Avon Sherry online for around 5000 to 6000 Rs. (Price at the time this was written)
Related: Top 10 Best Touring Bicycles 2023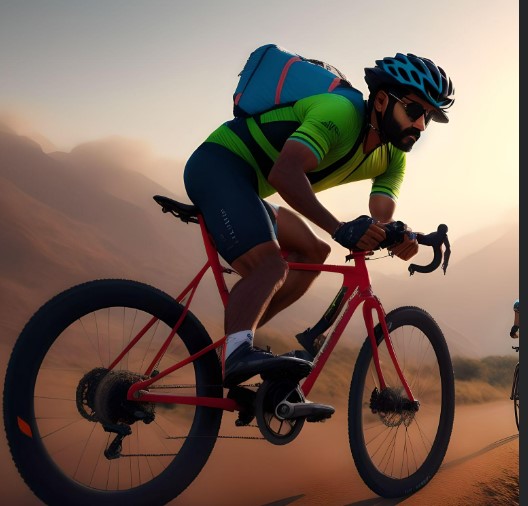 A passionate cyclist with an unwavering love for the open road and founder of topbikesguide.com . Energetic and dedicated, this enthusiast embraces the thrill of speed and the freedom of two wheels.