Riding bikes in different countries. Long, unending streets. Interesting folks. Sleeping beneath the open sky. Tasting new types of food. These things might pop into your head when you think of bike touring. But, before you can enjoy the ride, there's a long list of things to remember.
Picking the right path is important for your safety and to enjoy the scenery. Packing the right gear for all kinds of weather requires careful planning. Plus, you must ensure you have the best touring bike that can handle hills, provide comfort, withstand any weather, and much more.
Many may have toured India or other countries on a simple bike, but you may maintain with a better bicycle.
Before we delve into the top touring bikes, let's help you figure out what tour you plan. This will indirectly guide you in choosing the perfect touring bike for your long-distance journey.
So, what sort of bike tour are you planning?
The type of bike tour you plan should guide your choice of bike. Remember to consider the nature of your planned trip.
What are the various kinds of bike journeys?
Quick trip vs. leisurely ride
Light load tour vs. heavy load tour
Paved route vs. dirt trail
Brief excursion vs. lengthy expedition
Economical trip vs. lavish journey
These aspects will greatly influence the selection of the ideal touring bike for your adventure. If you still need to figure it out, let's explore the key factors when purchasing a bike.
Best Touring Bikes to Explore India
1. Bike Friday New World Tourer:
About this bicycle:
This bike is made for heavy-duty tours and can keep up with normal bikes without folding. It's great for long trips or weekend outings, and the best part is you can fold it up and take it with you on a plane or anywhere else easily. It fits your body perfectly and is comfortable enough for day-long rides.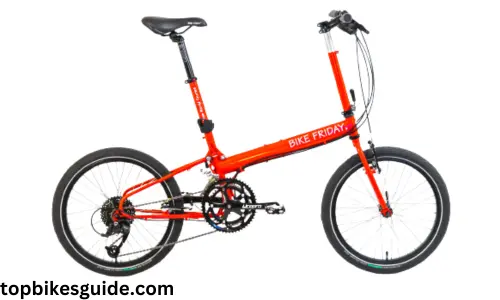 Who should use this bicycle?
If you like light touring or riding far distances with a load and prefer the ease of folding your bike, this new world tourist is just right. Even if you plan to bike around the globe, take notice of this foldable bike – it could be your greatest travel buddy.
Key details:
Folds small: The bike can be folded small enough to fit into a 32 x 24 x 12″ space.
Disassemble to fit suitcase: You can even disassemble it into the Samsonite F" Lite GT 31 suitcase, which meets airline-approved dimensions.
Suitable for various rider weights: It is suitable for riders up to 220 lbs (100 kg) or the heavy rider version, 260 lbs (118 kg).
Lighter frames available: Lighter frames are available for smaller/lighter riders under 150 lbs (68 kg).
Can hold accessories: The bike can accommodate front and rear racks (up to 3 bottle cages) & many other standard accessories.
Different drivetrains are available, including the Gates Carbon Belt Drive with Internal Hub.
Brake options: It comes with a V brake, but you can also fit a Disc brake.
Electric Assist options: All versions have Electric Assist options with travel-legal batteries.
2. Bike Friday Pocket Lama:
About this bicycle:
The Bike Friday Lama is a fantastic choice if you're looking for a foldable touring bike. This bike isn't limited to paved roads – it's perfect for gravel, trails, and more.
Who should use this bicycle?
If you enjoy rough riding, this bike is ready to take on more.
Key details:
Weight capacity: It can accommodate riders up to 230 lbs (105 kg).
Sturdier frame option: A stronger frame option, named the Diamond Llama, is available for riders up to 330 lbs (150 kg).
Wide tires: It can fit tires up to 2.1″ (5.5 cm) wide.
Compact fold: The bike folds to fit into a 32″ x 24″ x 12″ space and can be disassembled to fit into the Samsonite F" Lite GT 31 suitcase, which has dimensions of 31″ x 21″ x 12″.
Rack compatibility: It can accommodate front and rear racks for loaded touring.
Electric assist: Electric-assist options, including Rear or Front Drive E-Bike Systems, are available.
Internal Hub: Internal Hub options are available.
Related: Top 10 Most Expensive Cycles In India
3. Surly Long Haul Trucker:
About this bicycle:
The Long Haul Trucker from Surly has gained a loyal fan base. Those who own one only recommend a Surly, regardless of their riding style. The bike features a double-butted Chromoly frame, a classic five-arm triple chainset, Tektro cantis, and Shimano derailleurs. It also boasts a lengthy chainstay, allowing you to carry items securely wherever you go.
Who should use this bicycle?
This bike is ideal for those who want to ride daily or embark on adventures off the beaten track.
If you choose the standard haul trucker, it's equipped with rim brakes.
The bike is available both as a frameset and a complete bike, with 26˝ wheels for 42–62cm frame sizes and 700c wheels for 56–62cm sizes.
In addition to the typical Long Haul Trucker, Surly also offers a Disc Trucker. The only difference is that this model comes with disc brakes.
4. Fuji Touring Bicycle:
About this bicycle:
If you want a budget-friendly and lightweight touring bicycle, consider the Fuji Touring Bicycle. It's sturdy, not heavy, and has a wide 3×9 or 3×10 gear range, making it easy to handle uphill and flat terrain. Plus, the 36-hole rims provide extra stability.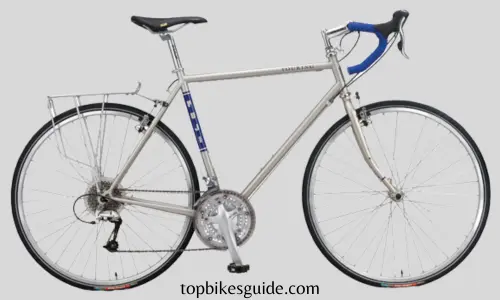 Who should use this bicycle?
If you're on a budget and need a lightweight, reliable touring bike, the Fuji Tourer is a great choice.
Key details:
Sizes available: XS (49cm), S (52cm), M (54cm), L (56cm), XL (58cm), XXL (61cm), XL (64cm)
Frame: Chromoly with 1 1/8″ steerer, low-rider water bottle and rack mounts
Gears: Shimano Alivio, 48/36/26T, Shimano Deore, 9-Speed
Wheels: Vera Terra DPM18, double wall, 36/36h, Shimano Deore hubs
Tires: Vittoria Randonneur, 700 x 35c, 30tpi
5. Trek 520 Bicycle:
About this bicycle:
Trek is renowned for crafting some of the top bikes globally, and their tradition shines through in the Trek 520 they created a few decades ago. The Trek 520 is a slim steel-framed bike with an alloy disc touring fork and all-weather disc brakes.
It features a broad 27-speed drivetrain excellent for carrying heavy loads uphill. Moreover, the bike comes with Bontrager Tubeless Ready wheels, puncture-resistant tires, and Shimano Sora brake/shift levers.
Who should use this bicycle?
If you love cycling on dirt tracks, roads, gravel, or through the woods and still want to stay comfortable, this bike is perfect!
Key details:
Frame: Chromoly disc frame designed to handle the heavy loads and long distances of multi-day touring.
Fork: Alloy Disc Fork ensures durability across various weather conditions.
Drivetrain: Shimano Sora/Alivio 27 Speed Drivetrain offers quick, light, and precise shifting.
Brakes: TRP Spyre C 2.0 Mechanical Disc Brakes provide controlled stopping power in any weather.
Tires: Bontrager H1 700 x 38c Tires offer ample grip and comfort under all conditions.
Read More: 6 Best Electric Cycle Brands In India
6. Specialized AWOL Bicycle:
About this bicycle:
The Specialized AWOL is worth considering if you're in the market for a contemporary touring bike. The bike features disc brakes and thick 700C tires that excite your rides. Even though the bike's specifications are simplified, you can customize it with your mudguards and racks. The bike also includes a dynamo front hub, allowing you to install a lighting system.
Who should use this bicycle?
If you're seeking a modern, lightweight touring bike with wide tires, this could be an excellent choice.
Key details:
Frame: Heat-treated custom-butted Premium Cr-Mo tubing, ready for internal light cable routing, Adventure Geometry, post disc mount, mounts for fender/rack, kickstand plate
Fork: Premium Cr-Mo butted, Unicron, heat-treated
Front Derailleur: Shimano Sora
Rear Derailleur: Shimano Alivio, Shadow design, SGS cage
Cassette: Shimano, 9-speed, 12-36t, which makes climbing hills with a load easier
7. Koga Miyata's World Traveller Signature:
Just as a suit defines a man, a great bike defines a cyclist. That's exactly what the Koga Miyata is!
This bicycle is among the top touring bikes. Its frame is handmade and perfect for long-distance travel. The bike ensures a comfortable and upright position, ideal for riding all day.
What sets this bike apart is the Rohloff hub. This high-performing hub is a durable, high-quality kit that lasts over 50,000 kilometers. Additionally, the bike comes with Belgian-made touring rims and Continental tires.
Who should use this bicycle?
If you have a generous budget and plan to explore every corner of the world without worrying about your bike parts wearing out too quickly, this bike is the right choice!
Key details:
Size: 50, 54, 57, 60 cm
Cassette: Rohloff steel
Rear Hub: Rohloff 14-speed internally geared hub (Rohloff Speedhub)
Saddle: Fizik Rondine Wing Flex
Tires: Continental Tyres
8. Co-Motion Americano Bicycle (700c wheels):
The Co-Motion Americano is another top-notch touring bicycle. This brand has set high standards for the ultimate touring bikes that are robust enough to handle any self-supported journey. The bike's design is stable, upright, and comfy, making long distances feel like a breeze.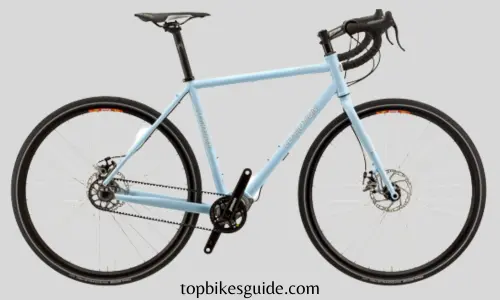 Who should use this bicycle?
If you're searching for a durable bicycle that can support all types of tours, this one's for you.
Key details:
Frameset: Reynolds 725 custom steel tubes that are strong and long-lasting for the long haul.
Purpose: Suitable for multi-day to multi-year tours on paved roads, daily commuting, and carrying heavy loads.
Components: The bike offers a wide selection of touring gears. You can choose from a 3×10 derailleur system, Rohloff 14 spd hub, or Pinion 18 spd gearbox drivetrain.
Disc Brakes: The bike also features all-weather disc brakes and a symmetrically laced rear tandem-duty wheel for maximum strength when carrying heavy loads.
Also Read: Schnell Cycles vs Firefox Bikes – Which Is Best?
9. Kona Sutra Bicycle:
Visit their official website, and you will be amazed by the description. The Kona is a combination of beauty, style, and flexibility. The bicycle features a Chromoly steel frame, a Brooks saddle, cork bar tape, BarCon shifters, a Shimano Deore 3×9 drivetrain for maximum gearing, and 700c WTB wheels that offer smooth rides.
Who should use this bicycle?
What else could you be looking for if you want to look trendy and embark on grand adventures?
Key details:
Frame Material: Kona Cromoly Butted
Fork: Kona Project Two Cromoly Disc Touring
Wheels: WTB ST i19 TCS 700c
Crankset: Shimano Deore
Drivetrain: Shimano Deore/Alivio 9spd
Brakes: Tektro RRL-A 160mm front / 160mm rear rotor
Tires: Schwalbe Marathon Mondial 700x40c
Saddle: Brooks B17 Leather
Extra: Fenders with Mudflaps, Pannier Rack
10. Roux Etape 150 Bicycle:
The Roux Etape is a touring bicycle with an aluminum frame, Chromoly fork, and wide-range gears. The best part about this bike is its relatively low cost.
Add a pair of mudguards and a rack, and you're all set to hit the road!
Who should use this bicycle?
The Roux Etape is the ideal choice if you're searching for a bicycle that provides supreme comfort and a relaxed touring experience.
Key details:
Frame: 7005 Series alloy
Fork: High Carbon Ferrous Alloy
Rear Gear: Shimano Altus
Sizes: 52/55/58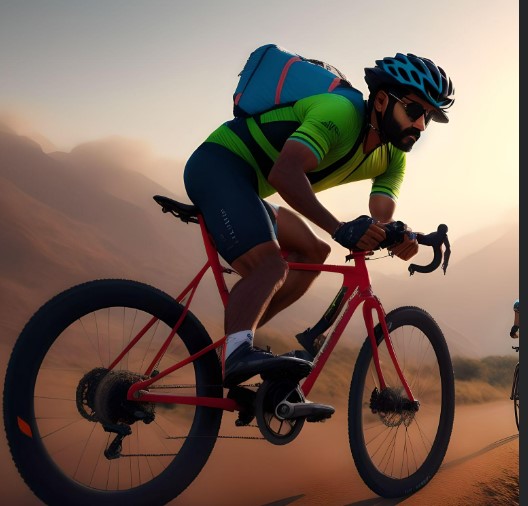 A passionate cyclist with an unwavering love for the open road and founder of topbikesguide.com . Energetic and dedicated, this enthusiast embraces the thrill of speed and the freedom of two wheels.