We all know how busy life can get, leaving us with little time to catch our breath, let alone fit in a workout. But there comes a point when our health starts to suffer, and we must prioritize exercise. A great way to do this is by getting into cycling, and you can start by finding the best adult bicycle for under 5000.
What should you expect from a bicycle that costs less than 5000?
When shopping for the best bicycle under 5000, managing your expectations is important. You might get only some bells and whistles at this price point. We recommend considering a single-speed bicycle without any gear system. A bicycle with gears or Suspension may not be the best choice at this price.
The best bike you can get for under 5000 will be a good enough ride for casual trips around the city lasting between 30 minutes to an hour. When choosing a bike, look for a simple structure, decent wheels, and a drivetrain suitable for riding on level roads and going uphill.
What should you remember when buying a bicycle costing 5000 or more?
Check the Brakes' Quality: Ensure that the bike you choose has high-quality brakes. This is a critical safety feature that should not be compromised.
Consider the Rims: Rims play a significant role in the bike's overall performance. Therefore, look for bikes with well-made and durable rims.
Single-Speed Drivetrain: A single-speed drivetrain is the best choice for this budget. It's simpler, more durable, and requires less maintenance than multi-speed bikes.
Avoid Gears and Suspension: Bikes within this price range, including gears and Suspension, often compromise on other components' quality to fit within the budget. It's better to opt for a simple, well-made bike.
Let's jump straight in!
1. Hero Spunky 26T: Priced at ₹4,599
If you're searching for a good bike under 5000, perfect for easy city rides, think about the Hero Spunky. It's simple to take care of and gives you more bang for your buck over time.
Highlights:
Bike with one speed
Strong brakes
Changeable handlebar stem
Tough tires
2. Viva RYDE On 26T: Priced at ₹4,399
The list of top cycles under 5000 is still ongoing. Another bike, Viva Ryde, provides similar features within your budget. Let's check out some of the bike's features.
Highlights:
Bike frame: Made of steel with V brakes (MIG)
Fork: Steel material, threaded with V brakes
Bottom Bracket: Features a sealed cartridge
Rims: Double-wall alloy rims, weight is 520G
Tires: Uses Hindustan 26*1.95 tires
Brake Set: Comes with steel V brakes
Seat Clamp: Equipped with a quick-release alloy clamp
3. Hero Kyoto 26T: Priced at ₹4699
Since 1956, Hero Cycles has been India's top bicycle maker. The Hero Kyoto model features a sturdy steel frame, two V brakes, and a comfy seat for biking. It also includes pedals that prevent slipping, providing a secure ride.
Highlights:
Sturdy metal body
Two stopping brakes
Cozy saddle
Slip-resistant foot pedals
4. Hercules Trailblazer RF 26 T: Priced at ₹4995
As we look at less expensive options, Hercules offers its Trailblazer made of steel with an easy-to-step-through frame. The bike features a double tube frame design and has a built-in carrier. It also uses Turbo drive technology for quicker movement.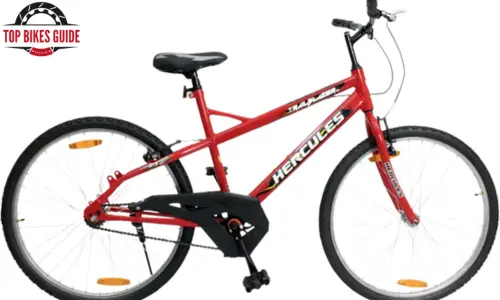 Highlights:
Double-bar frame layout
Built-in rack
Quick-drive feature
Soft handle grips
Clamp brakes
5. Btwin My Bike: Priced at ₹4,999
The Btwin MyBike is a great affordable bike that works well, and it's made in India by Decathlon. Compared to other Indian bikes, this one is of higher quality.
Decathlon is expanding in India, making it easy to buy this bike. Plus, their after-sales service is top-notch.
If you need a good bike for getting around town or staying fit, this one is a good choice.
Highlights:
Strong Metal Body
Lightweight Metal Wheels
Coil Spring V-shaped Brakes
Metal Steering Bar
6. Hero Cycles Razorback 26: Priced at ₹4,999
When Hero first introduced the Razorback bike, it created a big stir. Even now, after all this time, it's still one of the top bikes for less than 5000.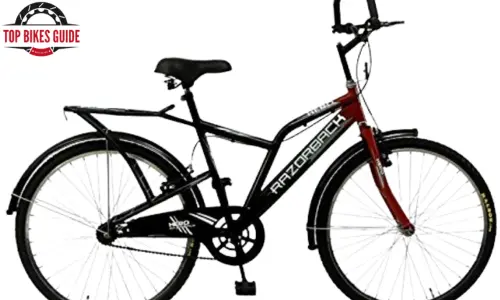 The bike's design is easy on the body and has a built-in rack. Plus, it doesn't need much upkeep.
Highlights:
Bike frame designed for comfort
Super steel system for a smoother ride
Double curved handlebar, similar to mountain bikes
Strong and efficient brake system
The tire size is 26 inches by 2.125 inches
7. Kross K10 26-Inch Bike: Priced at ₹5,440
If you're over 11 and want a bike, think about the Kross K 10. Like Hero and Hercules bikes, this one has a metal body, aluminum edges, a half-high handlebar, V-brake alloy handles, and pedals that don't slip, making riding enjoyable.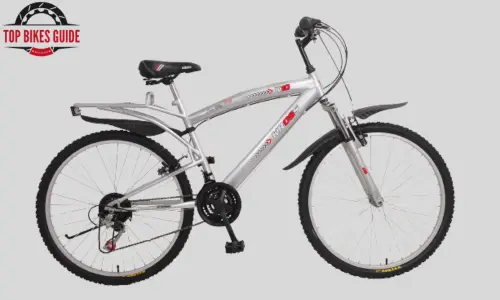 Highlights:
Body: Sporty steel-type frame that's welded together with a built-in holder.
Braking System: V-brake alloy handles and friction-free cables for effective stopping.
Wheel Edge: Light and fast aluminum alloy rims.
Tire: 26 x 1.95 city road-friendly tires for smooth rides.
Pedal Gear: Single gear on the pedal.
Check the following YouTube video by My Best Review.
8. Hero Urban 26T Bike: Priced at ₹5,569
Just over INR 5000, the Hero Urban 26 T Blend Bike boasts a sturdy and bendable steel body. This bike has V-brakes and 26-inch wheels, ideal for grown-ups seeking a cost-effective cycle. The unique thing about this top bike under 5000 is that it includes extras like splash guards and a bike stand, letting you spare more cash and enjoy more.
Highlights:
Sturdy Steel Body
V-shaped brakes
Wheels of 26 inches
9. HERCULES ACE 26 T Hybrid Bike: Priced at ₹5,599
Hercules is famous for making higher quality bikes than Hero, as shown by the Ace 26T. This fashionable bike has 26-inch wheels, a cool frame, and only one-speed gear.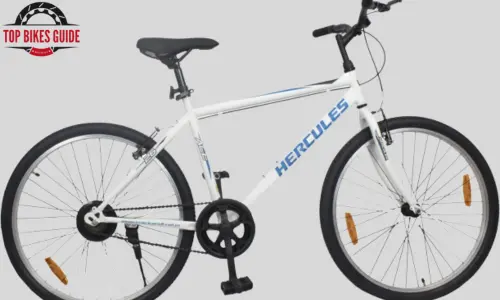 Highlights:
One speed
Firm suspension fork
26-inch tires
One-speed gear system
10. BSA Photon Ex: Priced at ₹5740
The BSA Photon is a simple, light bike with plastic wheels. It's perfect for regular city rides or quick trips to the local store. Its classic design adds a touch of elegance.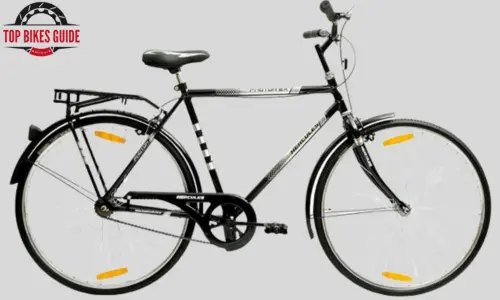 Highlights:
The frame is light and simple, ensuring a comfortable ride.
Tires are slender, white, and constructed from hard-wearing plastic.
The bike's frame is 21 inches in height.
Extras include fashionable ends on the handlebars and reflectors on the pedals and wheels.
11. Hero Jet Gold Roadster Bike: Priced at ₹6,300
If you like big bikes and need one that's tough and solid, you should check out the Jet Gold bike.
Highlights:
Sturdy metal body
Wheels that are 26 inches big
12. 26T Hero Octane Parkour: Priced at ₹6,499
Adding to our list of top cycles priced below 5000, we have the Hero Octane Parkour. This bike stands out with its simple design and impressive features.
Highlights:
A tough steel fork
Frame made of aluminum
Handlebar of steel
13. Hero Skyper 26T 26T Mountain Bike: Priced at ₹6,999
The Hero Skyper 26T is another bike from Hero with speedy turbo-drive technology. Its metal body, quick turbo drive, and sturdy brakes make for a smooth ride.
Highlights:
Sturdy metal body
Comfy handlebar grips
Built-in rack
Strong brakes
Comfortable seat
14. Ultimate City 26T by Atlas: Priced at ₹7,000
Atlas also makes great bikes that cost less than 5000. The Ultimate City is a one-speed bike with 26-inch wheels, perfect for grown-ups.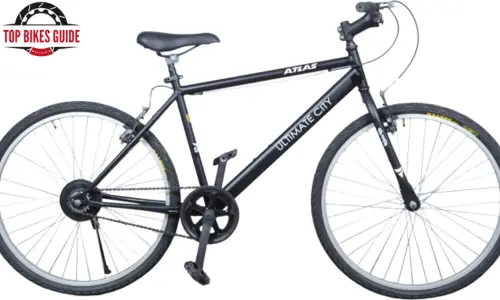 Highlights:
Frame: Made of Steel
Just one speed
Suspension: Stiff and unyielding
Also Read:  Best Touring Bicycles 2023
15. Scout MTB 26T Mountain Bike by Leader: priced at ₹7500
The Leader Scout is a new entrant in the world of bikes. It's a 26-inch bike ideally suited for anyone above 10. Equipped with a rigid fork and a single-speed, this bike also comes with pre-installed mudguards to protect you from road grime.
Highlights:
Stiff metal frame
Wheels that are 26 inches
Unbending fork
Handlebar made of steel
16. Black Pearl by Hero: Priced at ₹7,560
Are you searching for a bike that's slightly more than 5000 INR and works perfectly? The Black Pearl by Hero is sure to attract attention on the streets. It's solidly built, has a neat and slim look, and ensures a smooth ride without interruptions. If fortune favors you, you might find it at a reduced price.
Highlights:
Single-speed bicycle
V-Brakes for effective stopping power
Front Suspension for smooth rides on bumpy terrains
Quick adjustable seat for riders' comfort
17. Brooks Myth SS 26T: Priced at ₹7,999
Like the Btwin MyBike and Urban 26t, the Brooks Myth also has a steel body, wheels that are 26 inches and V-brakes. Its neat color design also sets it apart from other bikes in the same price range. This top bike under 5000 is made in the UK but sold in India by the TI Cycles group.
Highlights:
One gear
Sturdy metal body
V-shaped brakes
Wheels that are 26 inches wide
Read More: Top 10 Best Sports Cycles For Women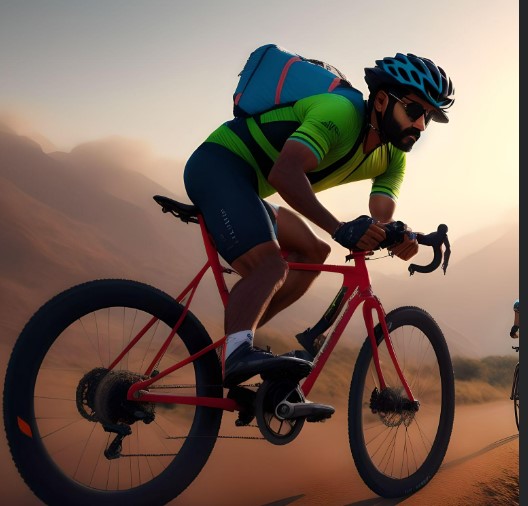 A passionate cyclist with an unwavering love for the open road and founder of topbikesguide.com . Energetic and dedicated, this enthusiast embraces the thrill of speed and the freedom of two wheels.