Covid has transformed our lives, leading to a surge in the use of bikes for personal travel. It's heartwarming to see cyclists riding at all times of the day. If you've been watching from your car or balcony, it might be time to get your own bike.
Choosing a bike can be tricky – you might have already experienced this. You could even be unsure if you'll continue using it. If this is a concern, consider getting India's top single-speed bike under 10000.
What kind of bike is the best for working out?
There are two main types of bikes: those with gears and those without. Both types are great for workouts. What counts is how hard you're willing to pedal and the type of terrain you'll be riding on. If you're a newbie planning to ride gently on flat surfaces, a bike without gears would be a good fit.
However, if you're planning to pedal hard, you'll need more resistance, which is where a bike with gears comes in handy. Remembering that you'll need to learn how to use the gears properly is important.
Moreover, understanding how to use gears effectively can help you conserve energy, ride longer distances, and climb hills more easily. This can be challenging on a bike without gears.
The single-speed bikes in India are:
Simple to use
Need little upkeep
Budget-friendly
Perfect for city travel and workouts
Top Single-Speed Bikes Available for Under 10,000
1. Btwin ST 20:
Decathlon has added a new bike to their Btwin collection, the ST 20. It comes in two colors and has a low tube at the top, making it easy to hop on and off. The bike's wheels are 26 inches and have rubber tires.
Also, the front wheel can be quickly taken off for easy storage.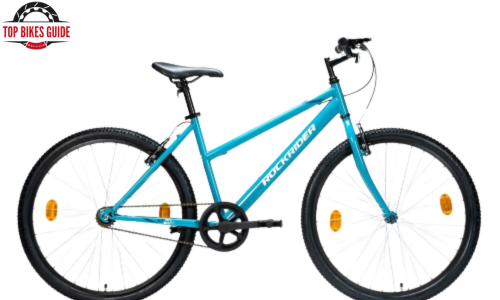 There's also a version of the Btwin ST 20 with a high frame. The only difference is the tube at the top.
Key Features:
Frame made of steel
V brakes
One-speed drive system
26-inch tires
2. Hero Kyto 26T
The Kyoto is a one-speed bike made from steel, equipped with V brakes and pedals that prevent slipping. It also has a saddle that can be adjusted easily to match the rider's height.
In addition, its 26-inch wheels are lightweight, single-walled, elegant, and respond quickly.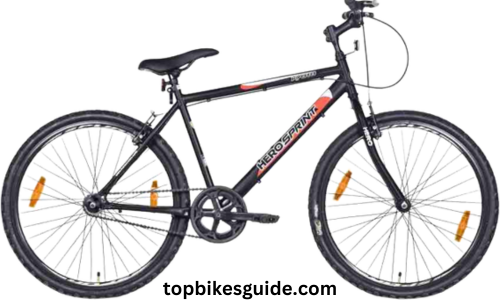 This one-speed bike in India fits those at least 5.4 inches tall to 5 feet 10 inches. If you want an uncomplicated bike from a well-known brand, the Hero Kyto 26T is a great option.
Key Features:
V brakes
One-speed drive system
Tires that are 26 inches
Frame made of steel
3. Ninety-One Topgun 26 T:
For beginners looking for a basic bike to start cycling for health or travel, the Topgun is a good choice. It has a steel frame, 700 c Nylon tires, and V brakes, perfect for everyday short rides. The Topgun also comes in a 27.5-inch tire size.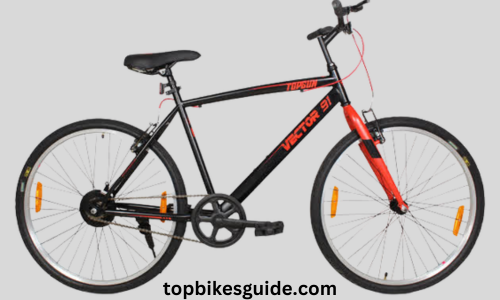 Key Features:
V brakes
One-speed drive system
700-inch tires
Frame made of steel
4. Btwin Riverside 50:
The Btwin Riverside 50 is a budget-friendly one-speed hybrid bike in India. It's specifically designed for those who could be a lot taller.
Its low-angled tube allows individuals at least 5 feet tall to mount and dismount easily.
The drive system operates smoothly, and the V brakes provide decent stopping power. Note that this bike has larger wheels (700X35c), is single-walled, and is equipped with rubber tires.
Key Features:
Unisex steel frame
V brakes
One-speed drive system
700 C wheels
5. Btwin ST 10:
The Btwin ST 10 is the newest member of the Decathlon group. The bike has the same features as the Btwin Mybike.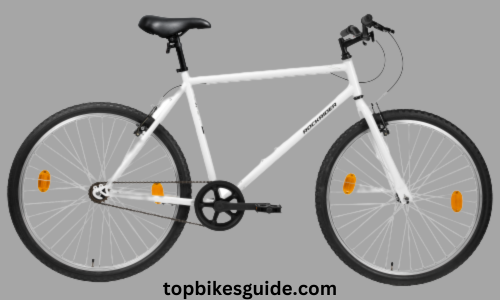 But, this bike has a slightly different frame design with slimmer tubes. Other details include:
Key Features:
Frame made of steel
V brakes
One-speed drive system
Wheels that are 26 inches
6. Viva Ryde:
Amazon Rating:
The Viva Ryde features a TIG welded aluminum frame, double wall alloy rims, and a suspension fork.
The suspension enhances the ride, and the thick 2.10 tires make it suitable for uneven surfaces. Although it's a bit heavy, this bike is a total package.
If you are okay with buying products from China, this one-speed bike in India is a great bargain.
Key Features:
Bike-Category: Mountain
Frame Material: Aluminium
Frame Size: 19 inches
Wheel Type: Double walled
Fork: Front suspension
Price: INR 8,399
Read More: 6 Best Electric Cycle Brands In India – (Buyer's Guide)
7. TATA Stryder – I Ride:
Amazon Rating:
The Tata Stryder I Ride is another 26-inch single speed bike in India from a well-known brand. This bike features a Tig welded frame, 26-inch double-wall alloy wheels, and a rigid fork with no tread.
Despite its affordable price, this bike offers a strong design that provides a comfortable riding position.
Key Features:
Bike-Category: Mountain
Frame Material: Steel
Frame Size: 19 inches
Wheel Type: Double walled
Fork: Rigid Fork
Price: INR 7,495
8. Btwin My bike:
The Btwin Mybike is one of our top picks. The bike, made of steel, has single-walled rims, V brakes, and it's very simple to ride.
Moreover, this one-speed bike priced under 5000 is suitable for flat roads and mild slopes.
So, if you want a bike ready to ride, this is the one for you.
9. TATA Stryder Harris 200:
The Harris 200 is a 27.5 one-speed bike produced by Tata. It has a 17-inch frame, a suspension fork without tread, and a single-speed drivetrain.
This one-speed bike, priced under 10,000, also features a front disc brake and double-walled alloy rims.
10. Hero Urban Pro 26 T:
Alternatively, the Hero Urban 26T is a basic but fashionable bike. It's made of Mild Steel and features a rigid suspension fork, 26-inch wheels, and a single-speed drivetrain.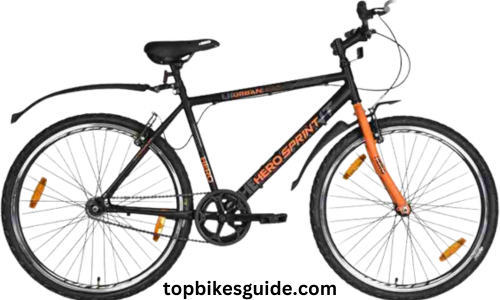 For those on a strict budget and want to avoid paying extra for mudguards, this one-speed bike already comes with them installed.
Also Read: 17 Best Cycles Under 5000 In India 2023
11. bikeARK Orb 26 T Fixie Cycle:
The bike park Orb is a standout on our list. This fixed-gear cycle is trendy and equipped with 700X 28c tires. If you're a fan of speedy rides and the sensation of the wind blowing through your hair, then the bike park Orb is a great match for you.
Cost: INR 8,499
12. OMO Model 1.0 26 T Hybrid Cycle:
The Model 1.0 is another 26-inch bike from OMO. It's a great fit for people who want to ride around town or travel up to 15km. The bike's matte black color, combined with bright yellow/orange wheels, makes it look striking.
Even better about this single-speed bike is that it has a side stand, mudguards, a bell, a lock, and all the tools and instructions you need to assemble it.
There's also a basic version of this bicycle known as Model 1.0 Eco. You can get the Eco for INR 6,899.
13. OMO Manali G1 26 T Mountain Cycle:
OMO, a young Indian brand that makes its bikes in India, offers the Manali G1. This trendy bicycle features 26-inch wheels and a single-speed drivetrain. Plus, it comes with disc brakes.
Things To Consider When Buying A Single-Speed Bike In India:
Quality:
You might get a lower quality if you're looking for an affordable bike with features. A bike offering gears, disc brakes, and other components for less than INR 10,000 is great. However, these cycles often have lower-quality parts and may not perform as well as expected.
Features:
Instead of buying a bike with disc brakes, suspension, and gears, consider a single-speed bike with V brakes. These brakes work well in any weather and require less upkeep.
Why should you steer clear of mechanical disc brakes if you're on a tight budget?
Firstly, mechanical disc brakes are currently in vogue. The market is flooded with budget-friendly cycles equipped with these brakes, and buying one is tempting. After all, you've always wanted one, haven't you? But after some time, you might notice that they aren't working as effectively as you'd hoped.
Secondly, these brakes can produce an annoying squeaking sound and may not stop your bike immediately when needed.
Also, you must often apply both brakes to slow down effectively when going downhill. Thirdly, to resolve these problems, you might take your bike to a mechanic. They might install new brake pads or sand down your current ones, but this fix usually lasts only a few rides.
Related: 17 Best Cycles Under 5000 In India 2023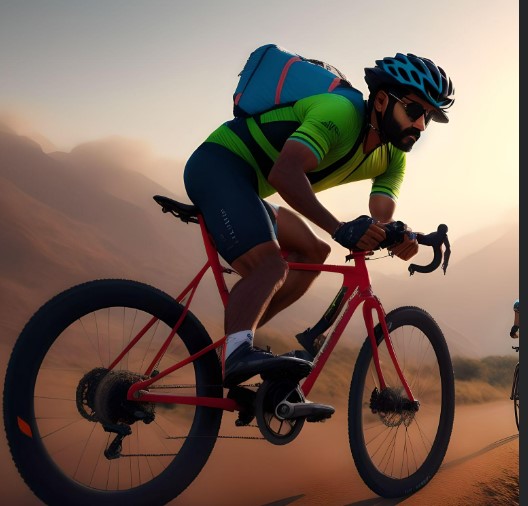 A passionate cyclist with an unwavering love for the open road and founder of topbikesguide.com . Energetic and dedicated, this enthusiast embraces the thrill of speed and the freedom of two wheels.