Look no further! You've come to the right place if you're searching for the top 29-inch bicycle in India.
Staying fit has never been more critical, a fact brought to light by the Covid pandemic. As a result, many people are seeking ways to keep their bodies healthy and strong.
Options for physical exercise are plenty, from hitting the gym, running, and practicing Yoga to the ever-popular "CYCLING."
There's a sea of bicycle brands boasting that their 29″ bicycles are the finest in India. But can they all be the best? It's undoubtedly only feasible to test some bikes before making your choice.
That's why we're here to help. We've done the hard work for you, reviewing all the 29-inch bicycles. We've narrowed down the top 5 best 29-inch bicycles in India that will satisfy you. But before we delve deeper, let's quickly look at our top picks.
What Size Person Is a 29-Inch Bike Suitable For?
A 29-inch bike means the bike's wheels are 29 inches across. This bike is an excellent fit for people 5'6″ or taller. It's made just for tall folks. They'll find it very comfy to ride because of the bike's size and shape.
Right now, 29-inch wheels are the biggest ones you can get for a mountain bike. But they're not as usual as you might think. Always look at the bike size guide from the brand before you buy.
29-Inch Wheels on a Bike: Why They're Great
Bigger Wheels, Better Speed: Bikes with big 29-inch wheels can go faster than bikes with traditional 26-inch wheels.
More Stability: A bike with a 29″ wheel is more steady than bikes with 26-inch or 27.5-inch wheels. This is because bikes with bigger wheels are longer.
Overcoming Obstacles: A 29-inch wheel can go over potholes and ditches more quickly because it's bigger than a 26-inch wheel. So, bikes with 29-inch wheels are usually more comfy to ride.
Ideal for Rough Roads: In India, the roads can be rough. Bikes with 29-inch wheels are the best for going over things in the way, like rocks, all kinds of bumps, and speed bumps.
Faster Rolling: Since a 29″ wheel is more giant around than a 26″ wheel, it rolls faster. So, it makes the bike go faster.
Five Top-Notch 29-Inch Bikes in India
1. Vector 91 Defeatr: A 29T Single-Speed Hybrid Cycle
Key Features:
| | |
| --- | --- |
| Feature | Description |
| Material | Strong Steel |
| Size | 17 inches (43cm) |
| Front Suspension | Yes |
| Weight | 18 kg |
| Brakes | Two Disc Brakes |
| Speed | Single-Speed |
| Warranty | 6 months |
The Vector 91 Defeatr hybrid bike is a top choice among 29-inch bikes in India priced under 15000. It's perfect for beginners because it's a simple, single-speed cycle. New riders will find it easy and fun to ride.
Top-Notch Parts The bike is made from the best parts. It has a 17-inch frame made of solid steel that won't rust. The bike also has an 80mm front suspension fork, wheels made of rust-free alloy, and wide 29-inch tires with a good grip.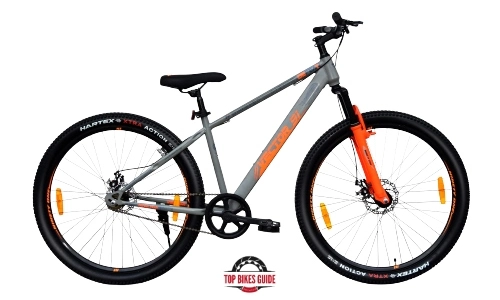 Easy to Use and Safe Brakes This bike has disc brakes on both wheels, so you can stop quickly if needed. Because it's a single-speed bike, you don't have to worry about changing gears.
Simple and Comfortable Non-gear bikes like this one are easy to use. They have a handlebar like mountain bikes. The bike is light, doesn't have gears, and has a raised handlebar and a comfy seat.
How to Use this Hybrid Bike
This 29-inch bike without gears is excellent if you need a simple way to get to school or work daily. You can even take it on bumpy paths for fun. It's safe an error occurred during generation. Please try again or contact support if it continues.
What We Love About the Bike:
It looks cool.
Top-notch parts were used to make it.
You can ride it far and feel safe and comfy.
It comes mostly put together.
It has pedals that won't slip and lights that reflect.
Things We Don't Like About the Bike:
The seat post needs to be longer for tall people.
It doesn't have a carrier, mudguards, or a bell.
The Bottom Line:
If you're new to cycling and need a top-notch 29″ bike, this one's for you. It's a fantastic one-speed bike packed with all a rider needs. It offers the highest level of comfort and safety.
2. City Landscape UT6000 Series 29-inch Mountain Bike
Key Features:
| | |
| --- | --- |
| Feature | Description |
| Frame Material | Steel |
| Frame Size | 18 Inches (46 cm) |
| Suspension | Front Suspension Only |
| Bike Weight | 19 kg |
| Speed/Gear Type | 21-Speed Single Geared |
| Brakes | Two Disc Brakes |
| Warranty | 6 Months |
If you're hunting for the top 29-inch bike in India, the Urban Terrain UT6000 Series tops our recommendations. This 29″ mountain bike is perfect for those who enjoy adding a bit of adventure to their rides. Its excellent build and sturdy parts ensure it will last for many years.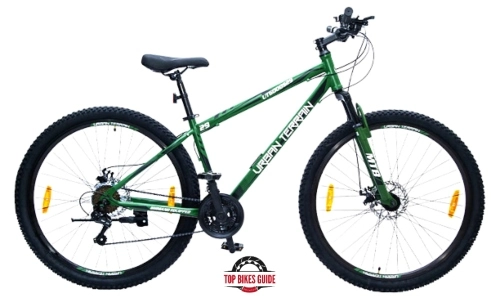 The UT6000 series falls under the high-end category of gear bikes that are practical, dependable, good-looking, and comfortable on all terrains and paths. This bike has many perks, like advanced features and up-to-date mechanics, ensuring your rides are always enjoyable.
Effortless Gear Shifting Experience
Shimano's gear changers and switches, made with Japanese tech, give a smooth and dependable ride. This stylish bike has 21 speeds (7×3), letting the rider change gears based on their needs.
This stylish bicycle has 21 speeds (a 7×3 combo), letting users alter the gears to match their speed needs. Since it's from Shimano, you can expect a flawless gear-changing experience.
Strong Bike Frame
The Urban Terrain bike is made with a super rigid steel frame. It can handle even the most challenging outdoor conditions on any ground. You can count on a great ride. The bike is built well so that it will last a long time.
Great Tires & Brakes
The bike has lightweight rims made from a double layer of metal and extra-big 29" tires. This makes for a smooth, comfy ride and a firm ride on flat, bumpy ground.
Also, the bike has good double-disc brakes on both the front and back wheels. You can stop quickly and safely, even when things get tricky, like in a busy market.
Seat That's Easy to Change for More Comfort
On top of all this, the bike has a seat that's easy to change. You can move it up or down to match your height. The best part? You don't need any tools to do it.
What We Loved About the Bike:
Top-Grade Parts: The bike's parts are of high quality, ensuring durability.
Stunning Color: The color of the bike is super attractive.
Dual Disc Brakes: The bike features two disc brakes for immediate and smooth stopping.
Free App Access: It comes with a free 2-month unlimited access to the cult.fit app.
Complimentary Services: Free installation and post-purchase support is provided all over India.
What We Didn't Love About the Bike:
Missing Features: The bike lacks a side stand and mudguards.
Maintenance Required: As a gear bicycle, it needs regular upkeep.
Limited Color Choices: There are only a few color options available.
The Bottom Line:
The UT6000 bike comes put chiefly together – about 85% of it. The best part is that the company will finish setting it up for free, no matter where you live in India. You don't have to lift a finger.
This 29 Inch UT6000 bike looks fabulous and is super comfy to ride.
It's an excellent fit for young people and grown-ups who are 5'4" or taller. All in all, this bike from Urban Terrain gives you more than you can imagine.
3. Cardiac Xplorer 29″ MTB for Youngsters & Adults
Key Features:
| | |
| --- | --- |
| Feature | Description |
| Frame Material | Steel |
| Frame Size | 19 inches (48 cm) |
| Suspension | Front Suspension Only |
| Wheel Size | 29 inches |
| Brakes | V-Brakes |
| Number of Speeds | One-Speed |
| Warranty Duration | 2 Years |
The Cardiac 29-inch bike is a top-notch mountain bike without gears that you can get online in India for less than 15000. Single-speed bikes are excellent for new riders because they need a hard-to-understand gear system. If you like being comfy more than anything else, you'll love how easy and smooth this bike rides.
Great Balance & Smooth Ride
One of the main things about this bike is its excellent balance. It rides well on city roads and bumpy paths. This bike is made to give the rider the best time.
The wide handlebars and great front suspension mean you'll always be comfy on this bike. Plus, it has disc brakes on both wheels for safety. So, you get a safe and comfy ride without giving up any comfort.
Strong Frame & Top-Notch Tires
The frame is the most essential part of a bike, so this one has a 19-inch steel frame and 29" wheels. Also, the top-grade nylon tires on this bike are a bonus because they grip well on all kinds of paths.
What comes with the bike?
This bike comes to your door 95% put together. You also get a stand for the side, a tool to assemble it, and a Mudguard in the box.
Good Points About the Bike:
Long-lasting, rigid steel frame.
Wide handlebar for improved control and balance.
Two disc brakes for added safety.
A 2-year warranty from Cardiac Cycles.
Not-So-Good Points About the Bike:
The Mudguard is of average quality.
Only two color options are available.
The Bottom Line:
If you're looking for a top-rated 29-inch mtb bike in India that's comfy and makes you look cool, then this Cardiac bike is just right. You can buy this bike for less than 15000 rupees in India. Finding a bike like this takes work for such a reasonable price.
4. CAYA Split 29″ Bicycle with Disc Brake
Key Features:
| | |
| --- | --- |
| Feature | Description |
| Frame Material | Steel |
| Frame Size | 18.5 inches (47 cm) |
| Suspension | Front Suspension |
| Bike Weight | 18 kg |
| Speed/Gear Type | 21-Speed Microshift Gears |
| Brake System | Dual-Disc Brake |
| Brake Lever Material | Alloy |
The top 29-inch bikes in India would only be complete with the Caya Split 29-inch bike for adults and kids. The bike shown here is our top pick for its stunning looks. You'll likely agree once you see this gorgeous bike.
Top-Quality Frame, Tyres, and Strong Brakes
The Caya Bike boasts a sturdy steel frame with a Rigid Fork System that is rust-free and long-lasting. The bike comes with front and rear disc brakes for efficient stopping power.
Also, it features Triple Walled Alloy Rims for extra durability. This means you can ride this bicycle on any ground. As for its tires, they are 2.4 inches wide and 29" in diameter. It also has American Valve Tyre Tubes with a Wide, Comfortable Saddle. These tires are designed to absorb most shocks, with the rest handled by the front suspension.
Gears and Riding Feel
This is a 29" bicycle with 21-speed micro-shift derailleurs and smooth and effective shifters. With 21-speed settings, you can adjust them based on your riding terrain.
In addition to helping younger riders build confidence and control, this 29″ bike is also suitable for adults. Mr. Sahil Khan, a fitness trainer, is the brand ambassador for the Caya bicycle brand.
Once you start riding this bicycle, you'll have a great time. Don't worry; it comes 90% assembled; only the handle and front tire need to be added, and a toolkit for this is included in the box.
Bike Features We Loved:
Striking color and style.
Extra-large, thick tires for better grip.
Suitable for both men and women.
Enhanced strength with Triple Walled Alloy Rims.
Areas for Improvement:
Absence of mudguards.
Higher price compared to other 29″ bicycles.
The Bottom Line:
Consider this if you want a bike that gets noticed when you're on the streets. This new brand comes from India, known for its quality bicycles. You can trust an Indian brand. The excellent controls and grip will make every ride feel more secure and confident.
5. Cardiac Xplorer 29 MTB with Shimano 7-Speed Feature
Key Features:
| | |
| --- | --- |
| Feature | Description |
| Body Material | Steel |
| Frame Size | 19 inches (48 cm) |
| Front Suspension | Yes |
| Bike Weight | 19 kg |
| Speed/Gear Type | 21-Speed Shimano Gears |
| Wheel Size | 29 inches |
| Seat Post Material | Steel |
| Warranty | 2 Years |
Finally, we have the Cardiac 29MTB Xplorer on our list. This is another bike from Cradiac, and it's the top choice for a 29-inch bicycle in India under 20000. The best thing about this bicycle is the customer experience provided by Cardiac.
The MTB comes with a 2-year warranty. They're well-known for their superb customer service after you buy, and they can quickly fix any problems you might have with the bike. That's precisely what a customer needs if there's an issue with the bicycle.
Top-Quality Parts:
This is another top-notch gear bike from the well-known company, Cardiac. It comes with 21-speed gear options that smoothly shift and adjust your speed. This bike has Shimano gears Derailleurs and shifters, allowing you to change gears quickly.
The bike's body is steel, making it strong, long-lasting, and rust-free. The red and black color on the bike is eye-catching and makes it stand out.
This bike is light and relatively easy to ride around the city because it has double alloy wheels and a steel frame.
Provides Great Comfort and Safety:
The bike has a wide PU cushioned seat for maximum comfort, and the seat post can be adjusted to fit the rider's height.
A broad handlebar in the MTB offers better control when turning, jumping, or during adventurous rides. There is a front suspension for better shock absorption.
As for its tires, it has 2.1-inch wide nylon tires on both the front and rear wheels. These nylon tires grip any terrain well, making this bike more stable.
For extra safety, there are dual disc brakes at the front and back, along with ED black alloy brake levers that work smoothly when needed.
What's in the box?
You'll receive a new bike from the Cardiac brand. This 29" bike will be delivered to your doorstep, 85% ready. Everything except the pedal, handlebar, and front tire are already set up. You can put these parts together yourself because it's straightforward. An Allen key and spanner are included in the box.
Additionally, the bike comes with a kickstand and mudguards, which are essential for any bicycle.
What We Enjoyed About the Bike:
The striking black and red design.
Its light frame and double alloy wheels.
Ideal 29-inch size for taller riders.
Budget-friendly gear bike.
What We Didn't Enjoy About the Bike:
The tires could be broader.
Mudguards of average quality.
The Bottom Line:
The Cardiac bike is an excellent choice for those seeking the best gear bike under 15000 in India. It provides many advantages at a fair and budget-friendly price. The bike isn't expensive, but it comes packed with many features.
Guide to Purchasing a Bike In India
Looking for the best bike for you? Start by figuring out what you want in a bike. Everyone likes different things on their bikes, so each bike is unique.
A bike with the things you want will work best for you.
But buying a bike online can be tricky!
Making a choice will be simpler and better if you know even the most minor details when buying a bike, whether online or in a shop.
Thinking of getting a bike? Ask yourself some key questions. These should be about your goal, how much you can spend, and what kind of bike you want.
Q1. Why do you want a bike?
The first thing to figure out is why you want a bike. Do you have a specific reason to start biking? Knowing your primary goal can help you focus your search since many bikes exist.
Q2. How much money can you spend on a bike?
Usually, this is the first thing to decide. But once you know what kind of bike you want, you can set a price limit. So, decide how much you can spend after you know why you want a bike.
Remember, it's good to be flexible with your budget, 10%.
Q3. Are you looking for a certain kind of bike?
For example, if you are biking on smooth roads or paths, you might need a road or hybrid bike. These are the best choices for that.
Need help? Don't worry!
Picking a bike online can be challenging. How are bikes different? Let's go over the different kinds first.
Plus, if you're not sure what features to look for, we've listed some key features a good 29″ bike should have:
1. Varieties of Bicycles
If you're starting with biking, you might need to learn about the different kinds of bikes. Usually, you can find three main types of bikes for sale. They are:
Street Bicycles
Combined Bikes
Hill Cycling Bikes
Street bikes are mainly used for smooth, paved roads. They're light, usually about 7-8 kg, and have thin tires and frames compared to mixed-use bikes. They go faster than other bikes because they're light, and the biker leans forward. A street bike is a good choice if you want to race or bike professionally.
Hybrid bikes are heavier than street bikes. They have thick, wide tires weighing around 10-12kg. This means they don't flower thanet bikes. Mixed-use bikes are great for biking around the city, going uphill, and even on dirt roads.
Mountain bikes, or MTBs, are made for exciting, rough rides. The frames of MTBs are more robust than those of mixed-use bikes. They have fat tires that grip well, disc brakes, and rugged alloy wheels. If you like biking on rocky, challenging roads, you should get a mountain bike.
You can narrow your choices once you've determined your budget and what kind of bike you want.
Then, look at the bikes' wheels, parts, and other features. Read below to learn more about this. These are essential things to consider!
2. Kinds of Stopping Mechanisms
Brakes are super crucial for safety when we're moving around. We always want to be safe on the road.
For 29-inch bikes, Rim and Disc brakes are usually used.
Rim brakes don't work as well as disc brakes, so they cost less.
On the other hand, Disc brakes work well. They stop the wheel right away when you need it. So they help prevent crashes. Spending more money to get a disc brake is a good idea.
3. Kind of Material Used for the Frame
What the frame is made of when buying a new bike matters significantly. This is because each frame is unique. Let's look at some materials often used to make bike frames:
Steel Frame Bikes:
Usually less expensive than Aluminum and carbon fiber bikes.
Made from heavy metal, these bikes are heavier but don't rust.
An ideal choice if your budget is up to 20,000.
Aluminium Frame Bikes:
They are lighter than steel ones, so they cost a bit more.
Used in most mid-range and high-end bikes.
Very little difference between steel and aluminum frames.
Worth considering if you can spend a bit more.
Carbon Fibre Frame Bikes:
Made from the lightest material for bike frames, very strong and light.
One of the priciest frame materials due to its high cost.
Primarily used in road bikes.
Prices start from 30,000 and can go up to lakhs.
Remember: It's also essential to pick the correct frame size for your height. The frame, a vital bike part, must match the rider's height. So, when buying a 29-inch bike, check the frame size chart and choose a frame that fits your height.
4. Enhanced Control with Front Suspension
Suspension is convenient when biking on uneven roads, just like the ones we often find in India. The experts at Cycling Guru always suggest choosing a bike with front suspension if you're in India.
What does the front suspension do?
It helps soak up small bumps and keeps the tires touching the ground for improved control as the wheels bounce up and down. Plus, it helps the rider, and the bike absorb big shocks when jumping and landing.
So, think about getting a bike with at least a front suspension. It can give you better control and boost your bike's performance.
If you're into downhill mountain biking, consider bikes with full suspension.
Remember that bikes with suspensions tend to cost more than those without. But don't be afraid to spend a little extra on a suspension bike. It's worth it!
5. Touch Points for Improved Positioning
The parts of a bike you touch, like the seat, handlebar, stem, and pedals, are essential. They help make bike rides fun and not tiring. These parts also help set how you sit on a bike, and your sitting position is essential when you ride.
If you sit right, you can pedal quickly and smoothly. That means you can ride farther without feeling tired.
If you need help deciding what bike to buy, think about bikes that are a good deal over time. That only sometimes means the best one is the most expensive or from a big brand.
We've mentioned some great, affordable bikes with 29-inch wheels that you can get in India. You should think about these bikes too. We did a lot of looking around to find them.
Typical Errors Folks Make When Picking a 29-Inch Bike on the Internet.
Getting a 29-inch bike in India can be complicated. You need to do your homework and get expert advice before buying one. One big mistake is picking the wrong kind of 29-inch bike.
As I said before, different bikes have different things to offer to different people. Not all bikes are suitable for you.
Suppose you're not tall, like less than 5'3"; you shouldn't get a 29-inch bike. These bikes are taller than 26 inches and are meant for tall riders. Did you know? Some brands make 29-inch bikes in three sizes: medium, large, and extra-large.
If you're new to this, you must learn much before buying a bike. Otherwise, you might end up with the wrong one. It won't fit you right, feel comfortable, or work how you want. So, read this whole article to find the perfect 29-inch bike.
Remember, the best bike is only sometimes the most expensive one. But don't just buy a cheap bike to save money, either. You should find a bike that fits your budget and has all your desired features.
Final Thoughts: Top 29-Inch Bike Choices in India
Here are our picks for the top 29-inch bicycles in India. The bikes we've listed need to be ranked in a specific order.
With this review, we hope you can make an intelligent choice that fits your needs and budget. If you're seeking a top-quality 29-inch hybrid bike in India under 15000, consider the Vector 91 Defeatr.
This comparison and review will assist you in finding the perfect 29-inch bike.
FAQs About Top 29-Inch Bikes in India
Q1. Who is a 29-inch bicycle suitable for?
29-inch bicycles, or 29ers, are usually better for taller people. If you're an adult and at least 5'6″ tall, you can ride a 29er. It might be hard for shorter people to find a 29er that fits them well. If you need more clarification, try riding bikes with different wheel sizes before choosing one.
Q2. Are 29ers good for going uphill?
29ers can be good for climbing hills. Using heavier wheels can make climbing harder, but this is sometimes true. If there are rocks and steps on the hill, the bigger wheels of a 29er can roll over them more easily.
Q3. What are the benefits of 29-inch wheels?
29-inch wheels have many advantages over 26-inch wheels. They offer features like better brakes, faster speed, and a smoother ride. Even when riding over things like rocks, tree roots, or stumps, a 29er can handle it well.
Q4. What height is good for a 29-inch bicycle?
If you're at least 5'2″ tall, you should be able to ride a 29-inch bicycle. These bicycles are made for taller riders because 26 or 27.5-inch bicycles might need to fit them right.
Q5. What's the difference between a 29 and a 29er?
Mountain bikes with 29-inch wheels are called 29ers or two-Niners. The "29" refers to the diameter of the wheels when the tires are attached. So, there's no difference in wheel size between 29-inch mountain bike wheels and 700c road bike wheels.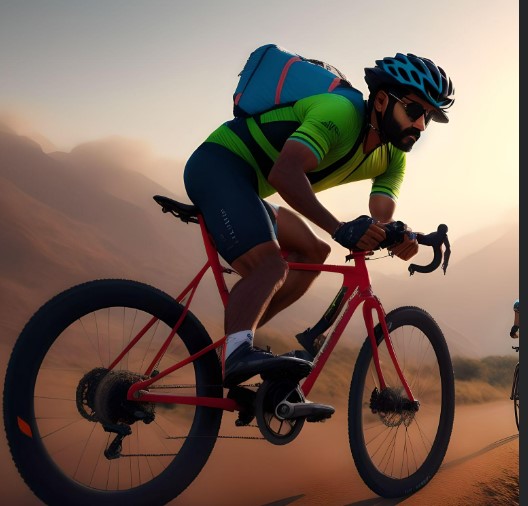 A passionate cyclist with an unwavering love for the open road and founder of topbikesguide.com . Energetic and dedicated, this enthusiast embraces the thrill of speed and the freedom of two wheels.