I'll discuss three-wheeled bikes, balance cycles, and top kid's bicycles in India in this piece. I aim to create a simple guide on picking the right bike for your little one. This guide will also assist you in finding the perfect bike for your child based on Age and needs.
Bike riding is an excellent way for kids to get exercise. It helps them learn how to control and balance their bodies at an early age. It also makes their muscles strong. Kids who ride bikes during the day usually sleep well at night.
What's the best way to choose a kid's bike in India?
Many moms and dads wonder about this. It's crucial to get the perfect bike for your child. But, finding an easy answer online can be challenging. I've created this chart that should help most parents.
Age: Under 2 years
Suitable Bike: Three-wheeled bikes
Age: Between 2 and 5 years
Suitable Bike: Balance cycles
Age: Between 3 and 6 years
Suitable Bike: Small wheel bikes – 12 or 14 inches (with extra wheels for balance if needed)
Age: Between 6 and 9 years
Suitable Bike: Medium-sized wheels, 20 inches
Age: Between 10 and 14 years
Suitable Bike: Bikes with 24-inch wheels
What are the Top-Rated Bikes for Children in India?
1. Bikes for Young Ones (Below 2 years of Age)
If you have a little one who's just learning to walk and you're thinking about getting them a bike, a tricycle could be just the thing. This bike can also make a great gift, like for a first birthday.
Your child is still working on their balance, so picking a bike with some safety features is essential.
Instead of a tricycle, I suggest getting a Balance Bike (You can find my recommended balance bike below the tricycle section). These bikes are designed to help your child learn how to keep their balance on a bike. Once they've got that down, they can quickly learn how to pedal. This is the opposite of what they'd learn with a tricycle.
Things I'd consider when buying a tricycle:
Safety stuff. This is important because the little one might need to improve at balancing. A handlebar that you can push and steer. This way, I can take my child for a ride on their new toy. The ability to take off the safety bits and handlebars. This will be useful when your kid gets older and can ride alone. Any extra features (They're not necessary, but they're nice to have).
R for Rabbit Tiny Toes Striker
R for Rabbit has swiftly become a top choice in India for items made for kids. Their products provide excellent quality and are worth every penny spent.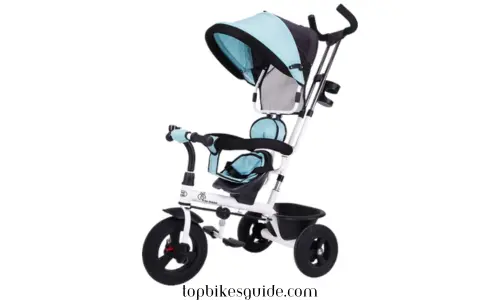 R for Rabbit offers a variety of tricycles that you can buy online from places like Flipkart and Amazon. But the one that stands out to me is the Tiny Toes Striker. Check out this product below:
R for Rabbit also has a fancier version of the tricycle named Tiny Toes Benz. They also have a less expensive model called the Tiny Toes Grand. You can pick the one that fits your needs and wallet.
Main Things:
Seat Belt: The tricycle includes a simple belt for your baby's safety. For a more secure (5-point harness) belt, consider the "Benz" version.
Safety Bar: There's a bar that provides extra safety and can be held by your child.
Safety Standard: The product meets EN71 safety standards (European).
Push Bar: It features a comfortable push bar for direction control.
Removable Canopy: The tricycle comes with a canopy that can be removed as needed.
Rotation Seat: The seat rotates, allowing you to set your child facing you like a stroller.
Additional Features: There are many other exciting aspects. For more details, refer to the link provided.
2. Bikes for Kids from 1.5 to 5 Years Old:
For this age range, a balance bike is a good choice. It can keep your child busy and happy until they're about 4 or 5.
Then, they'll be ready to switch to a proper bike with pedals. This change will be simple because they've already learned to stay balanced on the bike.
You won't need training wheels for the new bike you get.
Strider 12 Sport
This top-notch balance bike in India is excellent for your little one. It's a bit pricey, though. So, if you're ready to spend more on your child's ride, this is the best choice.
Strider is a top seller of balance bikes all over the world. They've just started selling in India.
Your child can use this balance bike until about 4 or 5. After that, you can get them a regular bicycle.
Main Things:
Starting Age: Children can use this bike when they reach 18 months.
Adjustable Seat: The seat can be set low, making it easy for kids first to sit and walk with this balance bike.
Customizable Handlebars: You can adjust the handlebars to match your baby's height.
Lightweight Design: The bike is light so you can carry it in your car effortlessly.
Brilrider Balance Bike
If the Strider bike is too expensive, consider the Brilrider instead.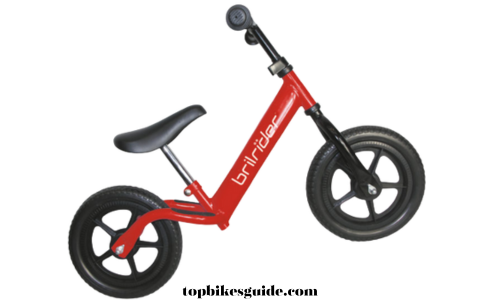 This balance bike is well-crafted and has similar great features to those on the Strider bike.
Main Things:
An item produced by a company in India
Comes in a wide range of colors
A light item that is easy to transport
The company provides a warranty for 6 months
Top Bikes for Children Aged 3 to 6 Years:
Artic100 & DarkHero by Decathlon
If you enjoy sports, you might know about Btwin and Decathlon. Decathlon runs many stores in India and sells sporting goods that are reasonable but still good quality. Btwin is the name they use for their bike brand. They make bikes for kids and also for grown-ups.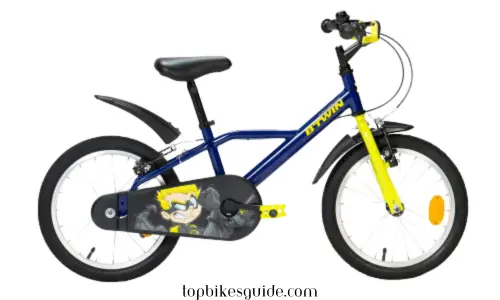 Main Things:
DarkHero is larger than Artic100.
DarkHero is suitable for kids from 3 to 6 years old (based on their height)
But, Artic100 is suitable for kids who are between 2 and 5 years old
Both bikes are of top quality and should meet your child's needs easily
There's also a white one you can get. Click the link above to see what's available.
R for Rabbit Tiny Toes Jazz (14T)
If Decathlon is outside your area or you'd prefer to get something from Amazon, a platform many people trust, this item could be just what you're looking for.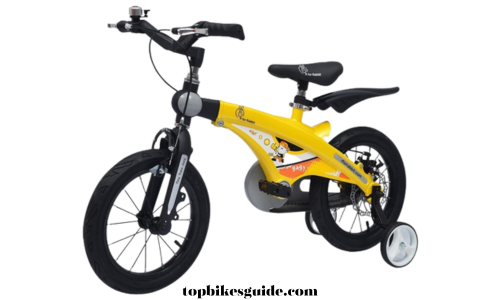 This item comes in two colors. The yellow version is more excellent than the blue one that you can see below.
The bike has a mixed metal frame, making it lighter than other brands.
It has a disc brake on the back wheel. This isn't necessary, but kids enjoy it.
The handlebars and seat can be adjusted to fit the rider.
It has sturdy training wheels that can be removed when the child feels ready to ride without them.
It's available in vibrant colors suitable for both boys and girls.
Atlas Kinder Kids Bicycle (14T)
The Atlas Kinder is a good choice if you need a bike that's easier on the wallet. It's a simple bike that will meet your child's needs now. Both boys and girls can ride this bike.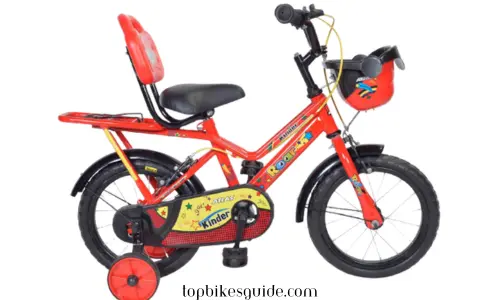 Also Read: 13 Best Single Speed Cycles Under 10000
Top Bicycle Choice for Kids Aged 6 to 9 Years:
We're now talking about the authoritarian age groups. Picking a bike for these ages can be challenging because all kids grow at different rates.
You'll need to guess the right bike size.
But I usually pick a bike that's too big (a common approach in India). The child might not fully enjoy the bike, but it will fit better as they get taller in a few months.
If you believe a 20-inch bike is too large for your child, you can choose a 16 or 18-inch tire bike instead.
R for Rabbit Tiny Toes Jazz (16T)
Tiny Toes Jazz also offers a slightly larger 16T version. This bike could be a good fit if your child is about 6. You can find it online on Amazon India.
The bike's features are just like the 14T model mentioned earlier. Click the link below to see the newest price and if it's available where you live.
Btwin Racing Boy 300 & 320 Models (Bike for Boys)
One great thing about buying from Decathlon is that you don't need to stress about the bike's quality. All the bikes I've tried are very well built (given their price) and last long. The Btwin Racing Boy 300/320 is a top pick for boys aged 6 to 8.
The main things that set the Btwin Racing Boy 300 & 320 apart are:
The two models have distinct colors. The 320 version is in a vibrant red.
The Racing Boy 320 features 5-speed gears, while the 300 model lacks gears.
MistiGirl 300 & MistiGirl 320 (Bike for Girls)
Like boys, Btwin also offers a bike designed just for girls. This bike is named MistiGirl, and it comes in two versions, 300 & 320.
The bike's frame is uniquely crafted to make it simple for girls to get on and off the bike.
What Sets MistiGirl 300 & 320 Apart:
The MistiGirl 300 is painted white.
The MistiGirl 320 has a beautiful black and pink color scheme.
The 320 model features 5-speed gears; the 300 does not have gears.
The 320 model is pricier than the 300.
BSA Champ Rocket (20 Inch)
Want a slightly larger bike? Try the BSA Champ Rocket. It has big 20-inch tires.
It's a super cool and trendy bicycle. Kids will enjoy how it looks.
Main Things:
It has a BMX-style handlebar. This makes the bike look good and keeps your child comfy while riding.
It includes a foam pad on the frame. This makes the bike look "cool" and stops any possible injuries.
The frame and seat have nice colors and pictures.
The bike comes with training wheels and a carrier.
Guiding Your Child on Learning to Cycle:
Parents must know that every child learns at their own pace. So, don't pressure your child to cycle. Some children may start early, while others might only start once they're 4.
Another tip for parents is to get a Balance bike (like the Brilrider from the link above). These bikes don't have pedals; kids push them with their feet. This gradually helps them learn how to balance. They usually get quicker on these bikes within days.
When your child has become too big for the balance bike and can use it quickly, you can get them a bike with pedals. Learning to ride this new bike will be more straightforward since they've already learned to stay balanced.
I don't like training wheels because children often lean on them too much. This means learning how to keep their balance on the bike takes them longer.
Balance bikes (including the good ones in India) typically don't have brakes. The kids will learn to stop by using their feet.
Protective Measures for Children
I believe in teaching children the correct habits from the start. Always ensure they wear the proper safety gear when they cycle or do any outdoor sports or activities.
Getting them a good helmet and making sure they put it on every time they go for a bike ride is very important.
Related: Best Bicycles For Little Girls In India 2023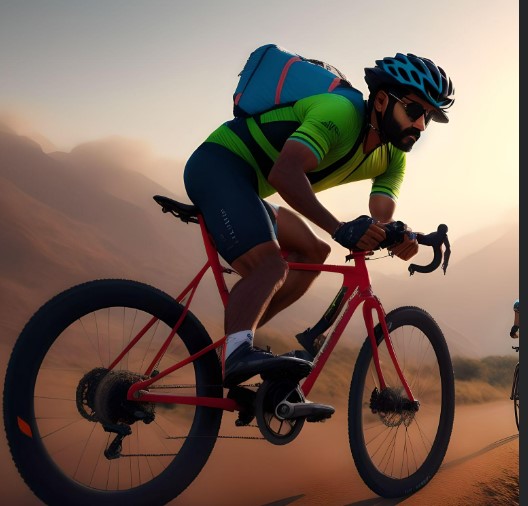 A passionate cyclist with an unwavering love for the open road and founder of topbikesguide.com . Energetic and dedicated, this enthusiast embraces the thrill of speed and the freedom of two wheels.