Choosing the right mountain bike for under 25,000 rupees in India is complicated and time-consuming. But don't worry; we'll help you find the best mountain bike in your budget so you can ride with joy!
Mountain biking, a sport that started in America in 1970, has been showcased in several films where actors are seen enjoying their bike rides. This sport sparked an interest in cycling and led to the creation of mountain bikes.
Nowadays, cycling has gained immense popularity worldwide, with many people choosing mountain biking as a way to experience nature.
If you're considering getting a mountain bike but need clarification on the cost, this article is just for you. We'll cover the basics of mountain biking and list the best mountain bikes available on Amazon India for less than 25,000 rupees.
Keep reading to learn more about these exciting bikes. By the end of this article, you'll be eager to get one and embark on mountain biking adventures in India's beautiful natural landscapes.
Before we proceed, let's first understand the essential information and our top choice.
What is a Mountain Bike (MTB)?
A mountain bike, often called an MTB in India, is specially designed for cycling on various terrains. These bikes, also known as 'All Terrain Bicycles' or ATBs, are built to handle rough surfaces easily.
Even though mountain bikes share some features with other types of bikes, they're specifically engineered for enhanced durability and performance on uneven grounds.
Mountain bikes come in various colors and offer comfort, safety, and a broad selection. If you own one, you likely won't need any other type of bike.
These bikes have broad, knobby tires that maintain grip on rough surfaces. The wheel spokes are made to be stronger than those found on hybrid and road bikes. This design ensures a smoother ride on bumpy terrains and makes it easier for riders to tackle obstacles.
What's the Use of an MTB (Mountain Bike)?
Mountain bikes are primarily made to be ridden on mountain paths, fire trails, and other uneven surfaces. They can handle various terrains, including rugged rocks and log piles. These bikes are designed to offer thrilling experiences on muddy trails.
Mountain bikes are built explicitly for mountain paths, rough surfaces, and single tracks. The terrain these bikes tackle often includes dirt, grime, and steep slopes. Despite this, the bike is lightweight and can quickly ascend uphill. The handlebars on mountain bikes allow riders to control their ride swiftly and provide vertical trail comfort.
Benefits of a Mountain Bike: Health Perks of Mountain Biking
Mountain bikes offer several unique advantages compared to other bicycles.
Riding these bikes can help lower disease risk and boost your immune system.
After a bike ride, you might feel tired, leading to a good night's sleep.
Mountain biking provides opportunities to make new friends and strengthen relationships.
It's a beautiful way to appreciate nature and encourages more outdoor time.
Mountain biking requires a lot of energy and burns many calories, aiding in weight loss.
These bikes are designed to your needs, helping you find the perfect one for your mountain adventures.
Who is the right fit for a mountain bike, and why?
Mountain bikes are great for any terrain, from rough trails to regular roads. They always promise an enjoyable ride. These bikes are designed to offer maximum comfort and safety for mountain biking adventures. They aim to meet the needs of sporty individuals by giving them the comfort they need. Whether you're a beginner or an experienced cyclist, you can choose a mountain bike based on your needs and the type of trail you wish to tackle.
Mountain Bike Varieties: Which MTB Should You Purchase?
Different kinds of mountain bikes are out there, each designed for specific jobs. Let's learn about the various bike types and what they offer. This will help you determine which is the best fit for you.
1. Speedy Cross Country MTB
These bikes are often chosen for racing due to their quick speed. They're lightweight and capable, which has increased their popularity over time. Made from carbon fiber, they're great at climbing hills. If you want a fast ride and are okay with comfort, this bike is for you.
2. Versatile Trail Mountain Bike
These bikes have become popular because they can be used for almost anything. They have wide handlebars for speed control, giving the rider confidence. If you want to explore all kinds of trails and are focused on something other than racing, this bike could be your pick.
3. Hybrid Down Country Bike
These bikes are a newer type that combines Cross Country and Trail bike features. This bike is a good choice if you need a fast, versatile bike for different terrains.
4. Long-Distance Enduro Mountain Bike
Enduro bikes are designed for extended trips and fast downhill speeds. Their parts are made to handle long days of racing with ease. If you're looking for a fun bike, there might be other options. But if you enjoy racing or love racing with friends, it's a good fit.
5. Speedy Downhill Mountain Bike
As the name hints, these bikes are about quickly racing down slopes. They're built to handle all sorts of challenging trails. With sturdy parts and a design for rough rides, downhill bikes can take you down hillsides faster and safer than you'd think. If you love downhill biking, this is the bike for you.
6. High-Tech Electric Mountain Bike
Electric mountain bikes are made for off-road trails. They have all the features of regular mountain bikes plus some added tech. A battery and motor help you navigate challenging mountain terrain. If you want a fun ride and to visit your favorite places, an electric mountain bike could be for you. Just remember, these bikes aren't allowed everywhere.
Should You Spend INR 25000 on an MTB in India?
Mountain bikes are getting more popular, and their demand is growing worldwide. Buying a mountain bike for INR 25000 is a good choice. There are many great mountain bikes available in India in this price range. They're perfect for people who want to explore outside the city.
If that's too much for your budget, don't worry. We've also found the best mountain bikes under INR 15000 in India. These bikes are top-notch, so make sure to check them out.
You can find incredible mountain bikes in your price range in stores and online. After doing a lot of research to make things easier for you, I suggest the best MTB cycle under INR 25000 in India.
Top 5 Mountain Bikes Available for Under 25000 In India
1. Firefox Bikes' Viper 26T MTB: A Unisex Choice
The Firefox Viper, a top-notch mountain bike offered by Firefox, is available on Amazon for around 25,000. Firefox is a well-known Indian business producing high-quality bicycles since 2005.
This mountain bike is lightweight due to its aluminum frame. It's great for everyday city rides and mountain biking adventures. It features 26-inch wheels, superior wide tires, and a 15-inch aluminum frame.
This setup is ideal for riders aged 12 and above who stand between 5'4″ and 5'8″ tall. If you're under 6 feet tall and have a budget of 25,000, this mountain bike could be a solid choice.
The Firefox Viper has high-grade parts like Shimano Tourney RD & FD and Shimano EZ fire shifters. It also boasts dual disc brakes for immediate stopping, dual wall alloy rims for added durability, and a quick-release saddle for easy height adjustments.
Firefox Viper 26T MTB: Main Features
The Firefox Viper features a sturdy alloy frame and disc brakes for efficient stopping.
It has double-walled rims for additional strength.
The bike's saddle can be easily adjusted thanks to a quick-release feature.
This mountain bike arrives 85% assembled, with an Allen key, a spanner, and an assembly guide in the box.
The bike is multi-speed with a 21-gear combination.
Pros:
The Firefox Viper offers a lifetime warranty on frames and a 6-month warranty on parts.
Extras such as a side stand and reflectors are included at no extra charge.
The first tune-up for this bike is free of charge.
Firefox provides excellent post-purchase customer service.
Cons:
The bike does not come with a complimentary mudguard.
The Bottom Line:
The Firefox Unisex Viper 26T is ideal for cycling beginners or those seeking an affordable mountain bike with solid features.
This bike offers excellent value for the money and is perfect for daily rides.
You can purchase this bike for under 25k on Amazon India.
2. The 27.5T Mountain Bicycle from Ninety One: Kamet Model
The Kamet 27.5T, a mountain bike priced under 25000, is a Ninety One Cycle Brand product. The brand prioritizes rider safety and protection.
The Ninety One Kamet has an 18.5-inch aluminum frame and a 27.5-inch wheelbase, sturdy rims, and high-grip nylon tires. It's suitable for riders aged 12 and above.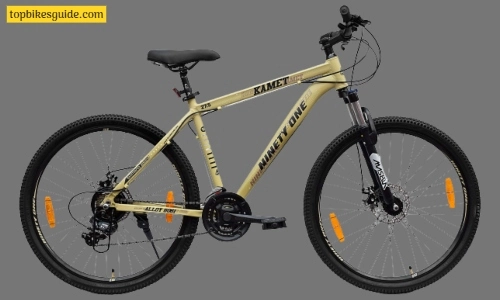 For braking and safety, it has mechanical disc brakes on both ends for solid braking power and front and rear reflectors for visibility during night rides. It uses top-notch components.
The Kamet 27.5t is a geared mountain bike with a 21-speed gear system. It uses Shimano Drivetrain, Shimano derailleurs, and Shimano gear shifters, all trusted bicycle gear parts in India.
This bike is one of India's most comfortable mountain bikes for under 25000. It features a front suspension with lock and lockout capabilities.
Key Attributes of the Ninety-One Kamet 27.5T
The Ninety One Kamet 27.5T is light and suitable for rough city roads.
The bike prioritizes safety, comfort, and toughness.
It has 27.5-inch wheels and an 18.5-inch frame.
Uses 2.1′ wide mountain tires for excellent grip on various terrains.
Features a lightweight and strong aluminum alloy frame.
Pros:
Lifetime warranty on the frame and a 1-year warranty on other parts after registering on the Wynd app.
Extremely comfortable due to its unique and appealing features.
It arrives 90% assembled and can be fully assembled in about 30 minutes with the provided Allen key and spanner.
Suitable for school, tuition, daily work, trekking, and leisure biking.
Cons:
Does not come with accessories like side stands, mudflaps, bells, and bike locks.
Only one color option is available.
The Bottom Line:
Suitable for children over 12 years old. It comes with all necessary mountain bikes features such as front suspension with lock and lockout options, disc brakes, hardtail, premium tires, 27.5-inch aluminum wheels, alloy frame, and a 21-speed Shimano Tourney gear set. Highly recommended and can be purchased in India for under 20000.
3. Geekay Spartan 26T
The Geekay Spartan is a top-notch mountain bike with precision wheels of high quality. It offers a choice between two-wheel sizes: 26 inches and 27.5 inches. To find the perfect fit, refer to the bicycle size chart.
This versatile mountain bike, available for under 25000 in India, comes with 21-speed gears. Opting for a geared MTB is crucial as the gear combinations enhance uphill rides.
Moreover, the Geekay Spartan is engineered to conquer any terrain with ease. Its 17-inch frame, made of lightweight Aluminium alloy, is aerodynamically designed to minimize air resistance and boost road speed.
For safety, it features high-quality double-disc brakes for immediate and effective braking. Additionally, its 2.4-inch wide tires ensure high traction on diverse surfaces.
This sturdy mountain bike, priced under 25k in India, has a front suspension that can be locked and unlocked, giving you the feel of a mixed-terrain bike on the streets.
Owning a Geekay Spartan 26t mountain bike will make your off-road biking adventures in India fantastic.
The Geekay Spartan MTB has some great features:
Its wide tires provide a smooth ride over uneven surfaces and ensure good balance.
The aluminum frame makes the bike light and fast, whether mountain biking or street riding.
The alloy frame is designed to cut through the air, which helps increase speed.
It's available in two sizes, suitable for people between 5'4″ and 6'2″ tall. Plus, the frame comes with a lifetime warranty.
Pros:
The Geekay bike company offers a lifetime guarantee on their frames.
This mountain bike comes in four vibrant color options.
Two wheel sizes (26t and 27.5t) are available to accommodate riders of different heights.
The seat height can be easily adjusted without tools because it has a quick-release feature.
When delivered, the bike is almost fully assembled (92%). Per the instructions, you must attach the handle, pedals, and front wheels. Then, you're ready to ride!
Cons:
The bike does not include extras like a side stand, bike lock, mudguards, and water bottle holder.
The warranty doesn't cover bike parts.
The Bottom Line:
The Geekay Spartan is a widely loved mountain bike among cyclists. It's known for its safety features and comfort, making it ideal for Indian roads. You can put it together at home in just half an hour with a trendy look. Even though it has gears, this mountain bike only requires a little upkeep. If you're looking for the best bicycle under 25000 in India, this one should be on your list.
4. Omobikes' 29T Geared Mountain Bike with Alloy Frame
The Omobikes Alloy 29T is a top-notch mountain bike for both men and women. Its high-grade suspension ensures comfy rides, even on the roughest trails. The bike features a 60mm front suspension that offers smooth rides on bumpy or cracked roads, including hilly terrains.
This bike boasts an ample wheelbase of 29 inches, which guarantees stability and comfort on rocky surfaces and delivers impressive mountain biking speed. With this bike, a rider has everything they need!
With an 18-inch aluminum frame, this mountain bike is light, making it easy for any rider to navigate various terrains. This 18-inch frame is perfect for riders aged 13 and above between 5 feet 6 inches and 6 feet 2 inches tall.
It is regarded as one of the best-geared mountain bikes under 25000 in India and comes with Shimano Company gear parts. The Shimano tourney gear offers 21-speed options, which makes gear shifting an exciting experience.
Omobikes Alloy 29T Key Highlights
The Omobikes Alloy 29T mountain bike features a 29-inch tire size and an 18-inch frame, ideal for tall riders.
This bike is well-suited for long rides and city streets.
The bike arrives 90% pre-assembled. Front wheels, pedals, and handlebars need to be manually attached.
Tools for assembly are provided, and all nuts and bolts should be tightened appropriately before use.
The bike is equipped with dual disc brakes for effective and immediate stopping.
Included accessories are mudguards, reflectors, and a side stand.
The motorcycle features anti-slip alloy pedals with glasses, useful for wet-weather mountain biking.
Pros:
The bike frame has a 2-year warranty, and customer support is available 24/7.
The bike includes a chain cover, a beneficial feature for women and girls.
The deep blue frame and black wheels make this mountain bike look visually appealing.
Thanks to its superior design and geometry, this is one of the lightest bikes on the market.
The bike seat is highly adjustable, allowing the rider to find the perfect posture.
Cons:
Accessories such as a cycle lock, water bottle holder, and lights are not included despite the price point.
Only one color option is available.
The bike may not be suitable for shorter riders.
The Bottom Line:
The Omobikes mountain bike is an excellent choice for males, females, and teenagers over 13 who stand between 5.6 feet and 6.2 inches tall. It's considered one of India's top mountain bikes under 20000, featuring a Shimano Accera derailleur and Shimano tourney shifters. Every component of this bike is of superior quality. So don't wait; get on this stylish 21-inch alloy mountain bike.
5. NINETY-ONE Madrid 27.5T: Special Edition Mountain Bike
The Madrid 27.5T is a unique mountain bike (mtb) from Ninety-One Bikes. It's a top-notch bike that works well on all kinds of roads, especially mountain trails. You can think of it as an all-terrain bike (ATB).
This bike has a frame made of aluminum, painted white and yellow. The bike is light because it's made with this soft metal. This makes it very stable when you're biking up and down mountains.
The Madrid 27.5T mtb has a 21-speed gear system from Shimano, a well-known brand. The specific model used here is the high-end Shimano Accera TY 500. This gear system makes for a beautiful ride out in nature, like in the mountains.
The bike has wheels made of an alloy that doesn't rust. These wheels have DSI tires designed to grip the ground well. The tires are 27.5 inches across and 2.2 inches wide.
The bike also has a front suspension from Zoom that's 80mm long. This suspension can lock in and out to help with bumpy and uneven ground. And the bike has two disc brakes. These brakes work quickly and firmly.
Extra Details of the Madrid 27.5T Mountain Bike
This mountain bike can hold a person who weighs up to 100kg.
It's best for people between 5 feet 4 inches and 6 feet 3 inches tall.
The front suspension of this bike has a unique feature where it can lock in and out. This is helpful when you're riding on smooth roads. Enjoy your ride!
The bike has Shimano gears that change smoothly. This makes for a great ride on any ground.
The handlebar is higher up, which helps the rider keep a good posture for mountain biking.
The seat on this bike is comfy, which is suitable for when you're biking in the mountains. You can also move the seat up and down without needing tools because it has a quick-release feature.
Pros:
The bike's frame is designed in a way that looks nice and is challenging.
The cycle works well and is a great partner for mountain biking in India.
The process catches people's eyes and looks fabulous with spoke lights at night.
One of the best things about this bike is its light.
Cons:
The bike doesn't come with any extra parts. You'll have to buy these separately.
The cycle could be a better fit for shorter people.
The Bottom Line:
This mountain bike is an excellent choice for those just starting with mountain biking. Everything you need comes with this bike. It's a special edition, so there are few left. Hurry and grab one! It uses genuine Shimano parts and has a top-notch front suspension. All in all, it's the best mountain bike you can get in India for under 25000.
Top 5 Best MTB Under 25000 In India 2023
| | | | | | | | |
| --- | --- | --- | --- | --- | --- | --- | --- |
| Bike Name | Brand | Type of Bike | Gears | Seat Release | Suspension Lockout | Brake Type | Guarantee |
| The Firefox Bikes Unisex Viper 26T 21 | Firefox | Mountain Bike | Shimano Equipped | Not stated | – | Disc | Not stated |
| NINETY ONE's Kamet 27.5T 21 Speed | NINETY ONE | MTB + Mixed-Use Bike | SHIMANO Tourney | Not stated | – | Disc | Half a Year |
| Geekay Spartan 21 Speed Gear Mountain | Geekay | MTB Bike | Shimano Gears | Not stated | Yes | Disc | Lifetime Frame Guarantee |
| Omobikes Alloy 29T Lightweight | OMO Bikes | MTB Bike | Shimano Tourney | Not stated | Yes | Disc | 2 Years |
| NINETY ONE Limited Edition – Madrid 27.5T | NINETY ONE | MTB & Mixed-Use Bike | SHIMANO ACERA | Not stated | – | Disc | Half a Year |
Guide to Purchasing Best MTB Under 25000 In India 2023
Several things can shape your decision when you're looking to buy a bike. Online stores offer many different options. Even the bike makers themselves sell directly from their websites. However, before all that, you must decide what bike you want.
At a neighborhood bike shop, staff members help you pick the best bike for your needs. This service is only sometimes available online. Instead, you can read reviews from other customers and use online guides for assistance.
Once you've chosen your bike and it's been shipped to you, the next step is to assemble it. Make sure to do this carefully so you can have a safe ride. Ordering your dream mountain bike online can be done quickly through various websites or apps by following a few straightforward steps.
What else is needed to begin?
After you've chosen to purchase a mountain bike, there's still more to do. You need a few more things to be prepared for trail riding.
Safety First: The main thing you need is a strong helmet for your mountain bike. Helmets keep bikers safe during rides, especially if an accident happens. Always have a helmet on when mountain biking. You can choose between full-face helmets, or top-notch endure helmets based on what you like. For added safety, wear knee pads under your pants.
Foot Gear: Consider the best pedals for your mountain bike. Flat or SPD-style pedals could be a good choice if you're starting because they offer more stability and efficiency.
Tires Matter: High-quality tires are essential for mountain biking. Tires that aren't tall can trap dirt in muddy conditions. It would help if you improved your tires to fit them for your regular routes.
Final Thoughts: 5 Best MTB Under 25000 In India 2023
Mountain bikes (MTB) have been growing in popularity, and their demand has skyrocketed, especially during the COVID pandemic when people took up cycling. These sturdy bikes are a great way to stay active and fit. There's no question that MTBs have shown their worth time and again.
Due to their increasing popularity, MTBs are designed to handle various terrains, leading to the development of different forms of mountain biking, like cross-country and downhill riding.
The more you use these bikes, the more adaptable you become. They're designed to give you a top-notch experience on challenging trails.
FAQs
Can you take long rides on a Mountain Bike?
Mountain bikes are built for long journeys, so don't worry. They offer solid control on rough and bumpy roads. Plus, you can modify mountain bikes to suit different landscapes. And remember, these bikes are sturdy and designed to withstand extended biking periods.
Are Mountain Bikes suitable for city riding?
Indeed, a mountain bike is deemed fit for city travel thanks to its excellent brakes and broad gear selection. However, it may not be the top choice as road bikes are generally more efficient for city travel. Also, mountain bike tires are more significant than road bike tires, meaning you need more energy to keep going.
Do mountain bikes outlast other bikes?
Undoubtedly, mountain bikes rank first in terms of durability. No other bike matches the toughness or resilience offered by a mountain bike. What more could you ask for if you've got a durable bike? You've picked the best one and can relish traversing fields or gravel roads for an exciting ride.
What is the highest gear MTB?
The highest gear on a mountain bike (MTB) is achieved when a giant chain ring in the front is combined with the smallest cog at the rear. This arrangement is often used for descending or when more speed is needed.
What is the highest speed of MTB?
The highest speed of a mountain bike can vary greatly depending on several factors, including the type of bike, the terrain, and the rider's skill level. However, on average, a mountain biker can reach up to 30-40 mph on downhill trails. Please note that these speeds are typical for some riders and can be dangerous with proper experience and safety equipment.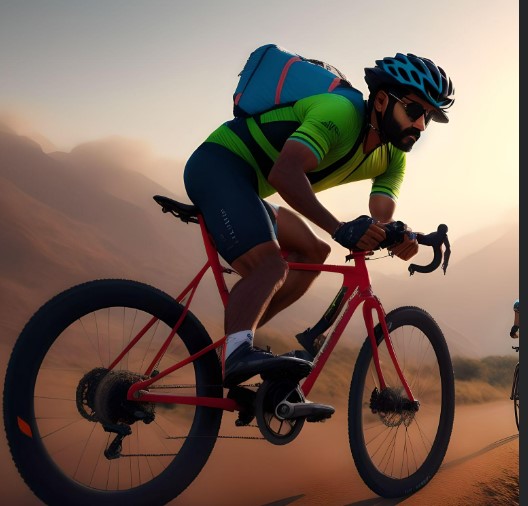 A passionate cyclist with an unwavering love for the open road and founder of topbikesguide.com . Energetic and dedicated, this enthusiast embraces the thrill of speed and the freedom of two wheels.