Were you seeking a mountain bike within your budget? You're at the right spot. Choosing the top mountain bike for less than 15000 rupees in India can be challenging, especially if you're new to biking. But don't fret! We've got you covered.
The pandemic has underscored the importance of staying healthy. As a result, many are exploring the best ways to keep fit. There's no shortage of options, from hitting the gym and practicing yoga to running or cycling.
Cycling is often seen as one of the healthiest activities, whether a weekend ride, a commute to work, or visiting friends. For your cycling journey, you'll need a reliable bike. If you need help deciding which type to choose, mountain bikes are excellent for beginners.
Mountain bikes are perfect for those who love nature and don't mind a bit of unpredictable weather. Mountain bikers often find joy in biking through mountainous terrains.
So, without further ado, let's explore the top five mountain bikes in India that you can buy for under 15000 rupees.
What's the Right Mountain Bike Size for Me?
Listen up, friends! A bike has two essential parts: the frame and the wheels. They come in different sizes. The wheel size is not the same as the frame size. Usually, mountain bike wheels are 26 inches, 27.5 inches, or 29 inches. You pick the one that suits you best.
But it's super important to have a frame that's the right size. If it's not, you won't be comfortable when you ride and might even hurt yourself. So, the main thing to consider when picking a bike size is the frame. So, always check out this mountain bike frame size chart below:
| | | |
| --- | --- | --- |
| Bicycle Size | Frame Size | Rider's Height (Feet & CM) |
| Extra-Small | 13-14 inch | 5′ to 5'4″ (152-162cm) |
| Small | 14-16 inch | 5'4″ to 5'7″ (162-170cm) |
| Medium | 16-18 inch | 5'7″ to 5'10" (170-178cm) |
| Large | 18-20 inch | 5'10" to 6'1″ (178-185cm) |
| Extra-Large | 20-22 inch | 6'1″ plus (185cm & above) |
Top 5 Affordable Mountain Bikes In India Under 15000
Loads of bike makers create top-notch mountain bikes in India. You can find some good, low-cost mountain bikes here if you're watching your money.
Look at these 5 top mountain bikes for grown-ups in India that cost less than 15000. They're worth checking out if you're thinking about getting a bike:
1. Urban Terrain UT3000: 27.5T Alloy Mountain Bike
Many bikes cost less than 15,000, but the Urban Terrain UT3000 27.5T stands out for its top-notch performance. It's a bike with gears and back suspension, making it a great mountain bike for grown-ups. It offers a fun and worry-free ride.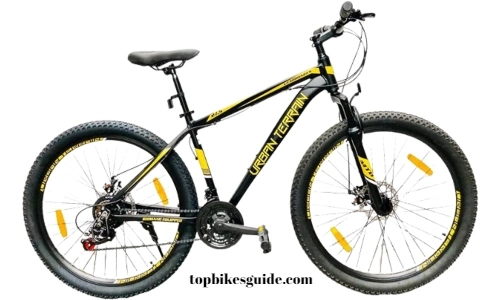 Build and Design: The UT3000 27.5T mountain bike has a strong aluminum frame. This means you can have a smooth ride, even in rough weather or bumpy roads. Its unique design ensures a durable, flawless ride.
Brakes: The bike has disc brakes at the front and back. This ensures you can stop safely, even when riding on exciting, tricky paths.
Suspension: This mountain bike has a backrest. This makes the ride comfy and helps soak up any bumps. It works well on all sorts of ground.
Changing Gears: This bike uses Shimano gears and has 21-speed options. This is one of its best features. You can change the gears quickly, depending on the type of road you're biking on.
| | |
| --- | --- |
| Pros | Cons |
| It works great on all kinds of bumpy places. | It doesn't have a side stand or mudguards. |
| It has top-quality tires and an adjustable seat. | It's not good for people just starting to bike. |
| This mountain bike has lights at the front and back. | |
| They'll set it up for you anywhere in India, for free. | |
The bottom line:
This bike has earned positive feedback from customers for its sturdy build and dependability. It features a solid frame and high-grade tires, ensuring excellent grip on all kinds of surfaces. The brand includes a free three-month premium subscription to the Cultfit app.
2. Caya Split 27.5 Mountain Bike
This bike is made in India by a local company called Caya. The Caya Split 27.5t Mountain Bike has some unique features, good and bad points too. It's a trendy and highly-rated mountain bike on Amazon. Plus, it's one of the top bikes under 15000 for grown-ups.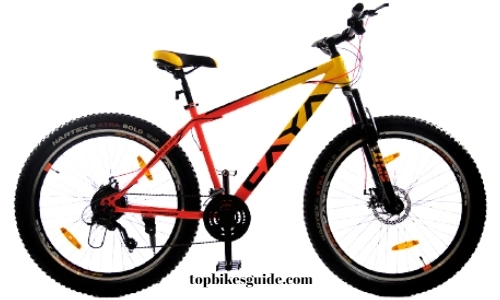 You can get this bike in two fabulous colors: Yellow, Red, Blue, and Green. These color mixes make the bike look fancy and expensive.
Bike Body, Wheels, and Tires: This bike has a big 18.5-inch frame made of steel. Steel frames are more challenging than alloy ones but can be heavy. However, steel frames tend to last longer.
As for the wheels, this bike comes with 27.5×2.80 Hartex broad tires. They look like fat tires, but they're wide-type tires. They're half-fat tires and are perfect for a 28er mountain bike.
The broad tires help you grip better and perform best when biking off-road or in muddy places.
The handlebars are 740mm wide, making the bike easy to steer on rough paths. Now, let's move on to the critical part of the Caya Split 27.5t Mountain Bike…
The Gear System of the Caya Split 27.5t Bike:
This bike has a 3×7 groupset with micro-shift gears and a freewheel from SunRun. It's common for the rear bag to get damaged or break often. So, there's a protector for the rear bag to keep it safe.
I've used micro-shift gear parts for three years and never had any significant issues. So, you can trust that micro-shift details won't disappoint you.
Brakes and Shock Absorbers: The bike has a mechanical two-disc brake system. The brand provides shock absorbers that can move up to 80mm. The performance of both the brakes and shock absorbers is good overall.
| | |
| --- | --- |
| Pros | Cons |
| The bike has a frame that doesn't rust. | The bike's steel frames make it somewhat heavy. |
| The bike stand has reflectors. | Some people noticed that the bike frame doesn't have a model name. |
| It has a mix of fat and MTB tires, good for mud. | |
The bottom line:
If you plan to spend about 15,000 rupees, this bike is worth buying. It performs well on smooth roads and excels off-road and on trails, thanks to its wide tires – a feature not common in bikes at this price point.
3. Leader Platinum 27.5T 21-Gear Alloy Mountain Bike
Are you looking for a top-notch mountain bike with 21 gears? No need to fret! The Leader Platinum 27.5T is an excellent pick for those with a budget of around 15000. Leader Cycle, a renowned Indian brand, is known for its superior build and trustworthiness.
Frame & Design: This bike has an 18-inch steel frame and boasts a sturdy alloy tig welded for extra strength and longevity.
Moreover, I liked the bike's color scheme. It's a striking mix of black, green, and blue.
Suspension and Handlebar: The bike includes a front suspension. This is ideal for those who enjoy off-road and trail biking. This mountain bike features a threadless front suspension for smooth rides on any surface.
A top-quality handlebar is essential for long biking trips, and this cycle has it covered. It has a T-type handlebar with soft rubber grips for a comfortable ride.
Tires, Wheel Rims & Bike Seats Updates
For tires and rims, this bike uses sturdy, top-notch rubber tires. It comes with extra wide 27.5 x 2.40 tires and double-wall rims. These wide tires help them last longer.
Like other mountain bikes, this one also has a quick-release PU seat. This feature makes riding the bike simple for people of varying heights.
Gear System and Pedal Set: The Leader Platinum 27.5t uses a Shimano Tourney Gear System, both front and back. This gear system is usually found in beginner-level bikes, but it works well and won't cause issues when changing gears because it's very smooth and easy to use.
| | |
| --- | --- |
| Pros | Cons |
| The bike has a frame made from welded alloy. | There's no spot to put a water bottle. |
| The bike arrives mostly put together – about 90%. | It only comes in one color. |
| The tires grip well and work on all types of ground. | |
| People aged 12 to 50 can ride this bike. | |
| The seat is soft and comfy, and it has a quick-release feature. | |
The bottom line:
Consider the Leader Platinum 27.5t from the Leader bicycle brand if you're looking for a top-notch mountain bike within a budget of 14k-15k.
If you need a bike suitable for individuals between 5 and 6 feet tall, this Leader Platinum 27.5t 21-speed MTB cycle is a great choice. Another highlight of this bike is its lifetime warranty on the frame.
4. Omobikes Shillong 27.5T: A 21-Gear Mountain Bike
OMOBikes has recently introduced the OMO Shillong Mountain Bike, which boasts 21 gears, a lockout suspension, and even allows personal customization.
This mountain bike from OMOBikes is one of the top choices under 15000 in India. The lockout suspension feature is imposing, given its price range.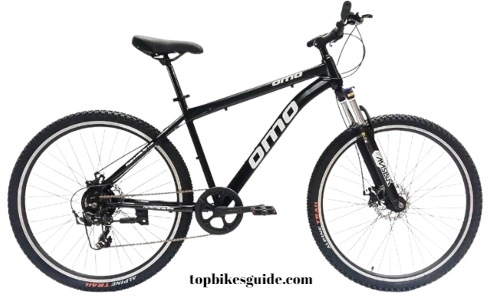 Here are some details about the OMO Shillong Mountain Bike:
Frame and Look: The bike has a robust 18-inch steel frame, made to last. It's available in two attractive colors – black and golden green. The OMO logo on the top and bottom tubes adds to its appeal.
Suspension and Steering: The OMO Shillong Mountain Bike has a steel suspension with lockout, and preload features with 50mm travel. If you're cycling on rough ground, you can use the lockout feature and increase the preload. On a flat basis, locking the suspension can make your ride smoother and more comfortable.
The Shillong Mountain Bike features a broad, elevated handlebar with rubber grips. This design ensures a firm hold during extended rides.
Gear System: As for the gear system, the OMO Bikes Shillong 27.5t is equipped with 21-speed Shimano gears. Shimano Tourney Derailleurs are fitted on both the front and back. The bike also includes Shimano Altus' thumb shifters, making gear changes smooth and straightforward.
| | |
| --- | --- |
| Pros | Cons |
| It's not heavy. | The bicycle didn't have a model name. |
| The frame has a lifetime guarantee. | |
| It has a high handlebar for fast and sharp control. | |
| It includes a suspension fork with lockout and preload abilities. | |
The bottom line:
As I mentioned, I own this mountain bike, so here's my take. This bike handles well on various terrains like smooth, rocky, and slippery roads. Shifting gears was also hassle-free for me.
In summary, if you're searching for a mountain bike under 15k for long journeys or everyday rides, consider this bike within the 15000 rupees range.
5. Cardiac Squad's 21-Gear Mountain Bike for Grown-ups
The Cardiac 29-inch mountain bike for adults is well-liked by customers and is seen as one of the top mountain bikes priced under 15000. It stands out because of its excellent frame and just-right wheel size. This bicycle comes with 29-inch nylon tires that feature double-wall alloy rims.
Frame and Style: This bike is made from high-quality steel and has an 18-inch frame. This mountain bike under 15000 has everything you need to set it up quickly for your exciting ride.
Brakes and Shock Absorbers: The bike features a dual disc brake system, allowing riders to stop quickly. Its suspension fork handles big bumps well, so riders don't have to worry about rough terrain.
Gears & Handlebars: The bike is equipped with 21-speed Shimano Tourney Gears, adding to the fun on adventurous roads. Its wide handlebars ensure comfortable and effortless riding by offering a secure grip.
Assembly: Assembling the Cradiac Squad bike is straightforward. You must attach the handlebars, front wheels, and pedals and adjust the gear system. If this is your first time buying a geared bike, you should visit a bike mechanic for a quick setup. A spanner and Allen key come with this Cradiac Squad mountain bike.
| | |
| --- | --- |
| Pros | Cons |
| This MTB cycle is not heavy. | No downsides have been found so far. |
| It has a strong, 18-inch frame. | |
| The Cradiac MTB Bike comes with a 2-year manufacturer's guarantee. | |
| The handlebars are comfy and simple to use. | |
| This bike comes with a free mudguard and a side stand. | |
The bottom line:
This superb gear bicycle in India under 15000 is equipped with dual disc brakes and wide MTB handlebars. If you buy this cycle and run into any issues, excellent customer service will help you sort them out. It's an ideal choice for individuals between 5.5 and 6 inches tall.
6. Firefox Bikes' Bad Attitude 10-29T, 21 Gear Mountain Bike for Everyone
The Unisex Bad Attitude 29T from Firefox Bikes is a versatile mountain bike made from high-quality material and long-lasting cycling features. It's considered one of the top mountain bikes under 15k in India.
Design and Structure: The Firefox Bad Attitude mountain bike boasts an 18-inch superior quality frame, offering user-friendly features.
Rims, Brakes, and Shocks: This bike has an adjustable suspension system fitted with a shock absorber for a smooth ride. Moreover, it features strong disc brakes (both front and rear) along with double-wall rims for added durability. It can withstand pressure well so that you can cycle on bumpy terrains without worries.
Seat: The Firefox Brand's mountain bike includes a cozy chair. The center has a triangle-shaped PU saddle that makes your ride very comfy.
Assembly: This bike arrives with 85% of the assembled parts. You can make the remaining parts at home by watching instructional videos provided by the manufacturers or taking them to a local bike mechanic.
| | |
| --- | --- |
| Pros | Cons |
| Equipped with strong disc brakes. | The pedaling system could be better. |
| Comes with a flexible front suspension. | |
| Has a great seat with a PU saddle. | |
| Made with sturdy tires and rims. | |
| The mountain bike has a long-lasting frame of top quality. | |
The bottom line:
This is among the top mountain bikes in India under 15000. It's designed with solid disc brakes, a durable frame, and a comfy seat.
7. Hero Sprint Growler: A 26T Mountain Bicycle
The Hero Sprint Growler 26T is a light bike built with a sturdy frame that offers fantastic support. Its top-notch build quality lets riders enjoy biking, even on rugged terrains, without hassle.
Frame and Design: The Hero Sprint Growler 26T is coated with rust-resistant paint, making it suitable for all weather conditions. Its robust steel frame and 21-speed feature ensure a pleasant ride on any terrain.
Brakes and Suspension: This mountain bike has powerful dual disc brakes and a front suspension fork for smooth and enjoyable rides.
Seat and Pedals: The bike seat has a comfy PU saddle for better riding control. It also features non-slip pedals for improved control, even in damp conditions.
Ideal for outdoor adventures: With its mudguard, this bike is perfect for city rides and off-road excursions.
| | |
| --- | --- |
| Positive Points | Negative Points |
| This bike has dual disc brakes for great control. | Assembling the Hero Sprint Growler 26T can be a bit tricky. |
| It comes with a PU saddle for added comfort. | |
| The cycle is made with a sturdy frame and handlebars that are easy to hold. | |
| It's equipped with a Shimano gear system for an improved riding experience. | |
| It features light reflectors and bright stickers. | |
| The Hero Sprint Growler 26T includes a 3-speed freewheel. | |
The bottom line:
This MTB cycle is perfect if you're searching for the top mountain bike under 15000 in India, featuring dual disc brakes, front suspension, and a 17-inch frame. It has all the essential features that make up an ideal mountain bike.
8. Hero Reaction: A 27.5T Bicycle with 21-speed MTB Gears
The Hero Reaction 27.5T is a mountain bike with dual disc brakes and coil spring suspension, priced below Rs. 15000 in India. It's built with a sturdy steel frame, offering durability.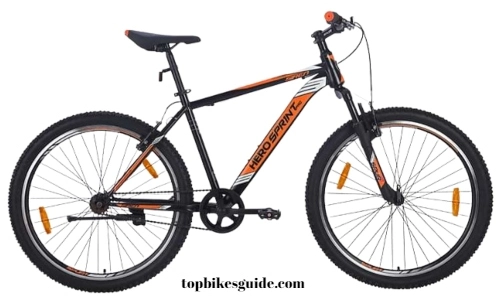 Frame and Design: This mountain bike's design is elegant, crafted with a high-quality steel frame that gives it a stylish look. Its matte finish is smooth and of excellent quality.
Gear System: The Hero Reaction 27.5T features a Shimano Tourney TZ500 at the front and derailleurs at the back. Gear changes are effortless, ensuring a comfortable ride without delays.
Steering, Brakes, and Suspension: The bike has dual disc brakes at the front and rear for reliable performance on bumpy roads. Its wide 680mm handlebars give riders reasonable control. The Reaction 27.5 TS suspension fork ensures a solid grip on flat and rough terrains.
Wheels and Seat: The Hero Sprint Pro Reaction features 27.5-inch MTB tires with Spur XCR double-wall alloy rims. It also has a race-style PU saddle for a comfy and steady ride.
| | |
| --- | --- |
| Pros | Cons |
| Uses Shimano EF500 gear changers. | Some riders felt the suspension could be smoother. |
| The Hero Reaction 27.5T comes with a suspension fork. | |
| The Reaction 27.5T is made with a top-notch steel frame. | |
| This mountain bike's tires are crafted from durable nylon and mounted on alloy wheels. | |
The bottom line:
This is a perfect mountain bike gear cycle under 15000 in India, great for flat and city landscapes. It's the top choice for beginners and people 172cm tall, offering a solid grip on every journey.
Guide to Purchasing a Mountain Bike Online in India: (Step-by-Step Instructions)
Some people might need to learn about mountains and their features, which can help them select the top mountain bike under 15,000. Here are vital features shoppers should remember when purchasing an MTB bike for personal use.
Here are some key things to think about when buying a mountain bike for less than 15k in India:
1. Select the Ideal MTB Bike for You
Every shopper must first figure out the kind of MTB bike they wish to buy. There are many choices for each type of bike that works well on flat and hilly ground. Two options are Hardtail and Full-suspension MTB bikes.
2. Pick the Wheel Size That Matches Your Height
You can find mountain bikes in 26-inch, 27.5-inch, and 29-inch sizes. The 26-inch bike has a stronghold and quick speed-up, which is great for shorter riders. The 27.5-inch bike offers excellent hold and speeds up quickly, which is ideal for faster riders too. The 29-inch bike has a top-notch grip but speeds up slowly, making it perfect for those who are taller.
3. Stiff Suspension Fork
This mountain bike doesn't have a suspension fork. They're usually cheap and straightforward to use. But you need help finding this kind of mountain bike for sale.
4. Hardtail Mountain Bikes are Low-Cost
Bikes with just front suspension are known as hardtail bikes. They cost less than mountain bikes with complete rest. Hardtail bikes are cheaper because they have fewer moving parts, and riders can lock the front suspension. That's why these bikes are wanted and popular.
5. Bikes with Full Suspension
Bikes with both front and rear suspensions are called full-suspension bikes. People like these bikes because they provide more grip and make every ride fun.
6. Choose the Kind of Brakes
Bike brakes are essential for safe riding. You should look at three kinds of bike brakes before buying a bike, depending on how much money you want to spend.
V brakes: These are found on most mountain bikes. They are simple and easy to take care of. But they need to work better than disc brakes.
Disc brakes: These are not too expensive, and you can find them on beginner mountain bikes. You control disc brakes with a cable that you must occasionally adjust when the brake pads wear down. This kind of brake needs some looking after and works better than V brakes.
Hydraulic disc brakes: These brakes are usually on expensive mountain bikes. They are great for stopping. But they cost a lot and are hard to take care of.
7. Choose the Right Frame Quality
Four kinds of materials are used to make bike frames: aluminum, steel, carbon fiber, and titanium.
Aluminum frames are found on many bikes. Bikes with aluminum frames are easy to control. They are light and don't cost much.
Steel frames are also standard because they are solid and easy to use.
Titanium frames are pricier, so you must pay more for a mountain bike with a titanium frame.
Carbon frames are lovely to use, and the people who make them can shape them however they want.
8. Choose Tires that Provide Good Grip
Tires are essential when you're picking out a mountain bike. They help the cycle work well on all kinds of roads. Tires are like the heart of a motorcycle. They can handle rough places, and they help the bike stick to the ground.
It would help if you always looked at the tread on a tire. The track is the rubber part that touches the ground. So, pick a mountain bike with tires that have a lot of traction. This will help your motorcycle grip the environment better.
9. Comparing Bikes with Gears and Without Gears
Mountain bikes often come with gears, usually anywhere from 0 to 21. These geared bikes are popular now, and they have many advantages. They're handy for riding uphill.
A high-gear mountain bike is a good choice if you're biking in hilly areas. But a bike without gears will do just fine if you're primarily on flat ground.
Advantages and Disadvantages of Bigger Wheeled Mountain Bikes
Many riders prefer mountain bikes with larger wheels. But knowing the good and bad points before buying one is essential.
Advantages:
They can go over obstacles quickly.
Mountain bikes with bigger wheels stick to the ground better.
Bigger-wheeled bikes have a firm hold on the ground.
Disadvantages:
These bikes take more time to speed up.
Turning around is complex with a big wheel.
Bikes with big wheels need more force to stop.
Advantages and Disadvantages of Disc Brakes
Disc brakes are cheap and easy to handle but have some good and bad points. Remember these when buying top-notch mountain bikes under Rs.15000 in India.
Advantages:
Disc brakes don't need much force to halt the bike.
They are simple to set up and less expensive to keep up with.
They work well even in wet places.
You only need to replace the used-up rotor, not the whole wheel.
Disadvantages:
Disc brakes cost more than V brakes.
They need to be looked after regularly.
In Conclusion: Top Mountain Bikes Under 15000 in India
Always look at the buying guide if buying a mountain bike for the first time. This way, you can find the best mountain bikes that fit your budget. All the bikes we've listed here are top-notch and cost less than 15000 in India.
These bikes are cheap but high-quality. They give you great control and make riding off-road fun. But if you have more money to spend and want the best mountain bikes under 25k, check this out.
FAQs: Top Mountain Bikes Below 15000 Rupees in India
What's the top MTB cycle brand?
Hero, Firefox, 91, and Cradiac are India's best bicycle brands under Rs. 15000. They offer a smooth ride without any issues. Their bikes have top-quality frames and tires, making them ideal for long trips on MTBs.
Which MTB cycle brand is the least expensive?
The Leader Xtreme MTB brand cycle is the most affordable. It offers good-quality, durable mountain bikes that cost less than 15000 rupees.
Which geared cycle is the best under 15000 in India?
The Urban Terrain UT3000 is the top geared cycle under 15000 in India. It gives riders more control quickly.
Can you safely ride an MTB bike on the street?
Yes, using an MTB bike on the street is totally safe. Mountain bikes aren't just for off-road riding; you can also use them on flat surfaces.
Is MTB better than the road?
In certain aspects, Mountain Biking (MTB) is considered better than road biking. It offers a more comprehensive workout, strengthening muscles and improving cardiovascular fitness. It also provides more adventure and durability on rough terrains. However, road bikes are more straightforward machines with less to go wrong and can cover longer distances faster due to their design.
Which TYRE is best for MTB?
The answer to this question largely depends on the type of terrain you'll be riding on. However, it's worth noting that MTB tires are more comprehensive, larger, and more durable than road bike tires, making them more suitable for rough terrain.
Is MTB good on the road?
While MTBs are primarily designed for off-road use, they can still be used on roads. However, their broader and larger tires may provide a different level of speed and efficiency than road bikes.
Does MTB size matter?
Yes, the size of an MTB matters as it impacts the rider's comfort and control over the bike. However, specific details were not provided in the context.
Is 29 MTB faster?
Yes, 29ers are generally faster and more efficient on longer rides. They roll over obstacles better than smaller wheels. However, they may accelerate slower due to their larger size.
Which brand is best for the MTB cycle?
The best brands for MTB cycles in 2023 include Specialized, Trek, Giant, Santa Cruz, Canyon, Yeti, Pivot, Cannondale, and GT Bicycles.
Is 12-speed MTB good?
Yes, a 12-speed MTB can be beneficial as it prevents the jumps between gears from being too big for the chain to handle. Moreover, 12-speed systems are more durable compared to 11-speed systems. However, upgrading to a 12-speed drivetrain can be expensive and may only be necessary if your bike is nearly new with modern geometry and brakes.
How fast can an MTB go?
The speed of a mountain bike (MTB) can vary depending on the rider's skill level, the terrain, and the specific cycle. On average, a mountain bike can reach up to 30 miles per hour. However, the typical speed during singletrack riding is around ten mph, with uphill sections averaging approximately eight mph. Non-professional, moderately fit riders who cycle regularly can often average speeds of 25-28 km/h. Most riders could achieve the top speed with 2″ knobby tires and high gear (3×9) is between 35-38 mph.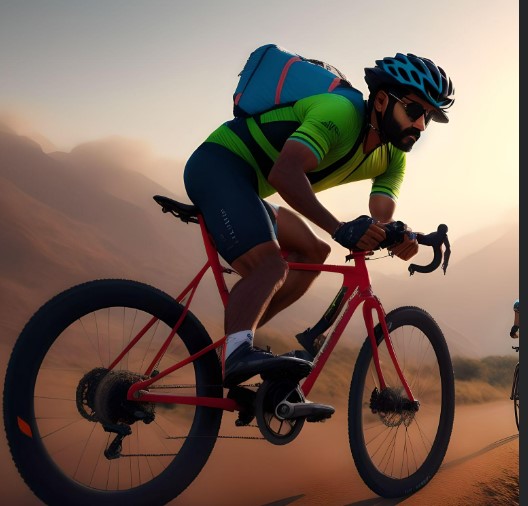 A passionate cyclist with an unwavering love for the open road and founder of topbikesguide.com . Energetic and dedicated, this enthusiast embraces the thrill of speed and the freedom of two wheels.