Shimano provides various groupsets suitable for multiple bikes, catering to different styles and budgets. This ensures that Shimano always meets the diverse needs of its customers.
In our last article, we compared Shimano Acera Vs Shimano Deore. We hope you found it informative! Now, we will compare Shimano Acera and Deore to help you select the best fit for your bike.
We will delve into the critical distinctions between Shimano Deore and Acera and then determine which is the most appropriate for specific situations.
This blog will be beneficial if you're considering an upgrade and are torn between these two. So, let's get started!
Quick Reference Chart: Shimano Acera versus Deore
| | | |
| --- | --- | --- |
| Comparison | Shimano Acera | Shimano Deore |
| Brake Lever & Shifter | EF-500 EZ fire brake lever & shifter | LX Dual Control Levers |
| Brake Type | Hydraulic disc brakes | Hydraulic disc brakes |
| Chainset Compatibility | 7, 8, & 9-speed bikes | 9, 10, 11 & 12-speed bikes |
| Front/Rear Derailleur Compatibility | 7, 8, 9, and 10-speed drive trains | 9, 10, 11, and 12-speed drive trains |
| Cassette Technology | HG technology for the cassette | HG technology for the cassette |
| Bottom Bracket Technology | Hollowtech II technology for bottom bracket | Hollowtech II technology for bottom bracket |
| Performance | Reliable for casual rides | Smoother and higher performance |
| Durability | Stands up to regular use | More durable, suitable for aggressive riding |
| Weight | Slightly heavier | Lighter |
| Price | Budget-friendly | Higher cost |
| Ideal Use | Everyday commuting and fun rides | Light downhill or cross-country trail riding |
Also Read: Health Benefits of Cycling for Children and Kids
Shimano Acera Groupset
Shimano Acera is Shimano's introductory groupset, but it's reliable and offers steady gear shifting.
It's also pretty cheap, which is excellent. This groupset includes front and rear gear changers, gear shifters, brakes, cassettes, and cranksets.
You can use it on mountain and hybrid bikes, so many people like it because it's versatile.
Read More: 6 Best Electric Cycle Brands In India – (Buyer's Guide)
Who is Shimano Acera for?
Shimano Acera is mainly for beginners who want lots of options. It works with both hybrid and mountain bikes. It's great for everyday bike rides and fun outings. Find out more.
Shimano Acera Drivetrain: Pros and Cons
Let's now look at the drivetrain's good and bad points to help you decide if it's right for you.
Pros:
Affordable: For all the features it has, the price is low. This is why many riders can get it and why it's great for people just starting to cycle.
Smooth Shifting: The Acera drivetrain makes changing gears smooth, making your ride friendly and accessible.
Durability: The parts are made from excellent materials that can handle being used daily and will last a long time.
Cons:
Weight: Some people might not like that it's heavier than Shimano Deore. This is because of what it's made from. But only pros would notice this – everyday riders probably wouldn't.
Shimano Deore Groupset
When you compare it to the Acera groupset, Shimano Deore is a step up. It gives better performance and has more features. You can count on Deore to work well. And because Shimano makes it, you know the quality is good.
Who is Shimano Deore for?
Shimano Deore is for riders who have moved past the beginner stage and are now at an intermediate level. It works better and lasts longer than the Acera groupsets.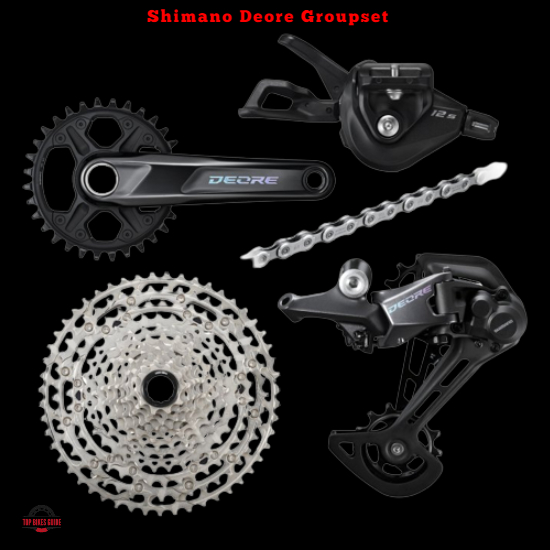 Plus, it's versatile. Whether you're into mountain biking or just riding for fun, Deore can fit your needs and make your rides smoother.
Related: 5 Best MTB Under 25000 In India 2023
Pros and Cons of Shimano Deore Drivetrain
PROS of Shimano Deore:
Better Performance: Shimano Deore outperforms the Acera groupset. It shifts gears smoothly and accurately, making it easier for riders to handle challenging terrains.
Durability: Constructed with high-quality materials, Shimano Deore, is built to last. Being a Shimano product, its quality is assured.
Lightweight: The Deore groupset, made from superior materials, is lighter than the Acera. This enhances the overall performance of the bike.
CONS of Shimano Deore:
Higher Price: The Deore is priced slightly higher than the Acera. However, given its additional features and superior performance, the price is justified for those seeking top-tier biking performance.
Contrasting Shimano Acera and Deore: Key Distinctions
By considering the design features and the pros and cons. But to make our choice stronger, let's look at the main differences.
Performance: The first thing to consider is how well they work. Both are great at doing their job. But when you compare them, Deore works better than Acera.
Weight: The parts of Deore are usually lighter than those of the Acera groupset. But this difference might not be noticeable to everyday riders who want to have fun riding their bike and aren't in a race.
Price: Shimano Deore costs a bit more because it works better than Acera.
Check out the following YouTube video on Shimano Acera Vs Shimano Deore
Check Also: Best MTB Cycles Under 15000
Does Shimano Deore Surpass Acera in Performance?
This depends on what you need. If you want to have fun and go for light rides with a bit of variety in the gear set, then Acera is perfect. There's no need to look at other types.
However, if you're after better performance, Shimano Deore is the one for you. From a basic look, Acera could be better than Deore.
Shimano Deore comes out on top when it comes to lasting longer, working better, and having better quality. But it does cost a little more.
The Final Say: Shimano Deore and Acera
We checked out everything that makes Shimano Acera and Shimano Deore different. We found that, for the most part, Deore is better than Acera. It works better, lasts longer, and is easier to use.
But Deore does cost more than Acera. This could be a problem if you have little money to spend.
Related: 10 Best Hybrid Cycles In India Under 20000 INR
FAQs
Q1. Can I put Shimano Acera on my mountain bike?
Yes, you can use Shimano Acera on beginner mountain bikes. It's a basic set from Shimano, so it works okay off-road but could be better on tricky trails. It's not as good as Shimano Deore.
Q2. Is Shimano Acera worth it?
Shimano Acera is a perfect choice for beginner mountain bikes. It has many speed choices and significant parts like shifters, derailleurs, cassettes, brakes, and more. Plus, it costs less than Shimano Deore.
Q3. How is Acera different from Deore?
Shimano Deore sets come with HG chains and work well with 9 to 12-speed setups. Acera also uses HG chains for quick and smooth gear changes.
The main difference is that Acera is made to work with 7, 8, and 9-speed setups.
Related: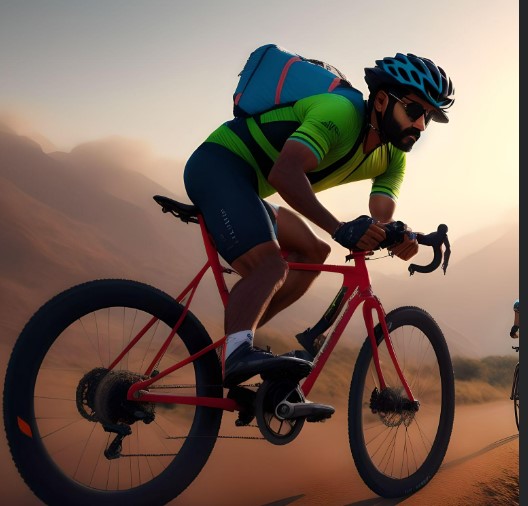 A passionate cyclist with an unwavering love for the open road and founder of topbikesguide.com . Energetic and dedicated, this enthusiast embraces the thrill of speed and the freedom of two wheels.